1. Features, Specifications
With no doubt, today's need for more efficient cooling is increasing day by day. Apart from processors, graphic cards also need additional cooling to maintain stable operation, especially while playing the latest video games. Titan has introduced an interesting product with the codename TTC-CSC88TZ that can be installed on the latest graphic cards.
Titan Twin Turbo VGA Cooler TTC-CSC88TZ
In the majority of VGA cards, the default cooler installed is unable to handle extra heat while overclocking or running intensive games. In order to keep your VGA cool and run your games smoothly, you will need a better cooling solution. Titan Computer Co., Ltd. a leader in the design and manufacture of computer cooling solutions, introduced a new 4-Heatpipe VGA Cooler, TWIN TURBO (TTC-CSC88TZ), which utilizes 4 high performance heatpipes and twin powerful fans to provide fast heat dissipation.
The TWIN TURBO VGA Cooler supports all ATI and NVIDIA VGA cards with mounting holes of 54.8mm, 79.7mm, 75.4mm, and 61.1mm, and its package includes universal clips and all the necessary parts for easy installation. Also, eight RAM heatsinks are included to cool the RAMs of your VGA card.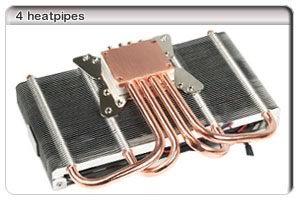 - Features
Pure copper base, 4 heatpipes with long shape of aluminum fins
Dual fan design, low noise, great cooling performance
Supports most VGA cards & SLI or CrossFire installation
- Specifications
| | |
| --- | --- |
| Outline Dimension | 158x115x36mm |
| Fan Dimension | 70x70x10mm 2pcs |
| Rated Voltage | 12V DC |
| Rated Speed | 2000 ± 10%RPM |
| Airflow | 31 CFM |
| Static Pressure | 0.04 InchH2O |
| Noise Level | <26.2 dBA |
| Rated Current | 0.18A |
| Power Consumption | 2.16W |
| No. of Pole | 4 Pole |
- Compatibility list
Nvidia
GeForce 3 Ti 200 / 500 series
GeForce 4 MX 420 / 440 / 460 series
GeForce FX 5200 /5500 / 5600 /5600XT
GeForce 6200 series
GeForce 7300 GS / 7600GT / 7600GS
GeForce 8400 series

Mounting Holes
(54.8mm)

ATI
RADEON 7000 / 7200 /7500 series
RADEON 8500 series
RADEON 9000 / 9200 /9250 /9500 series
RADEON 9550 /9600 / 9700 / 9800 series
RADEON X550 / X600 / X700 series
RADEON X800 / X850 series
Nvidia
Geforce 4Ti 4200/4200 8X
Geforce 4Ti 4400/4600/4800
Geforce FX 5200 Ultra/5600Ultra/5700 Ultra
Geforce FX 4500/5900/5900 XT
Geforce FX 5950 ULTRA
Geforce 6600 /7300GS / 7300GT / 7600GS
Geforce 6800/6800GT /8500GT/8600GT

Mounting Holes
(79.7mm)

ATI
RADEON X1600 / X1800 / X1900 series
RADEON X1950 series
RADEON X2400 series / X2600 series

Mounting Holes
(75.4mm)

Nvidia
GeForce 6800 series/ 7600GS /7600GT
GeForce 7800 series/ 7900 series/ 7950 GT
GeForce 8500 GT / 8600 GTS/ 8600GT
ATI
RADEON X1300 series / X1600 / X1600XT
RADEON X1650
HD2600 series /HD2400 series

Mounting Holes
(61.1mm)

Except Nvidia 7800 GS, ATI RADEON X300 series
Except CHAINTECH SA6200, SE62TC, SA62A, SA62AC, SA62A-G2, SA6600, SA66LE-T2