16. Benchmarks - 3DMark06, Crysis v1.2, Unreal Tournament 3 SYSmark 2007 Preview
After so many benchmarks it's time to conclude all the test results. In general both tested motherboards gave a similar performance. The two AMD 790GX solutions differ in some features and in their retail price.
The Foxconn A7DA-S is cheaper and comes in a more "spartan" retail package, while the Gigabyte MA790GP-DS4H proved somewhat faster in tests especially under overclocking. It is possible that a newer BIOS for the Foxconn mainboard to improve its performance and behavior. For example, the Foxconn couldn't recognize the EPP profile of the OCZ PC2-8500 SLI memory and properly adjust the memory.
Besides the minor differences, we are happy that both motherboards identified the Phenom X4 9950BE CPU without any problems.
The ATI HD3300 comes with 128MB of GDDR3 on board giving us high expectations. The results were impressive either in games or video playback considering that we have to do with an IGP solution here. Before running the tests we couldn't expect to play Crysis at 800x600 even with low details. As for the Blu-Ray playback, the graphics engine showed us its strengths with the CPU utilization to be just 4~8% .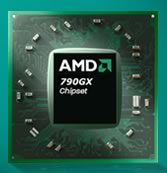 Concluding this roundup, we have nothing but a positive feeling about the AMD 790GX chipset. When paired with an AMD processor it offers good performance and most of all a very good IGP chipset that could be a very good companion for your new HTC PC. If we had to choose between the Gigabyte MA790GP-DS4H and Foxconn A7DA-S, our vote would go for the Foxconn A7DA-S since it has a lower retail price. We also liked the two on-board switches and hopefully the BIOS will get a fine tuning with a future update.