22. TEAC Boost Function
Writing Quality - Page 21
TEAC's Boost function
TEAC offers a similar technology to VariRec that "boosts" the laser power in order to reduce Jitter. As TEAC explains "…The write state will be changed by varying the laser power and its radiation duration of the drive. As a result, the sound quality or read performance may fluctuate depending on the congeniality of the media and the drive. The change may work better or worse. It is impossible for TEAC to make verification as it depends on the congeniality of the media and the drive. Changing the settings is your own responsibility…"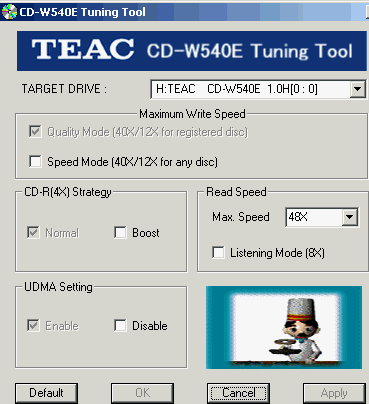 The CD-W540E tuning tool offers that option, under the "CD-R(4X) Strategy" function. These settings function only for the CD-R media and only when the write setting is 4X speed inside the CD-R software. Below are explained the two 4X writing modes:
Normal: Default settings adjusted by TEAC
Boost: The media is written with stronger laser emission in a lesser time than those of the normal settings.
* Normal is selected in the default settings.
* Note in advance that some effects may not be noticeable or a side effect such as increasing errors may result when Boost is selected.