16. Oscilloscope
Writing Quality - Page 15
Oscilloscope
Generally, HF measurements are easier to make on an analog oscilloscope. This is because an analog 'scope shows a multitude of sweeps superimposed, whereas a digital 'scope shows only a "snapshot" of one brief sample. The "Eye Pattern" is what you see on an analog scope. You cannot see this eye pattern on a digital scope. Instead, you see just a sampling of a few pits and lands. A digital 'scope is good for close inspection of individual pits, but what we are interested in is the average values over many pits.
Jitter is a statistical measurement of the variation in pit or land length around the mean value for each run length. For each pit and land length a large number of lengths are measured and the standard deviation is reported.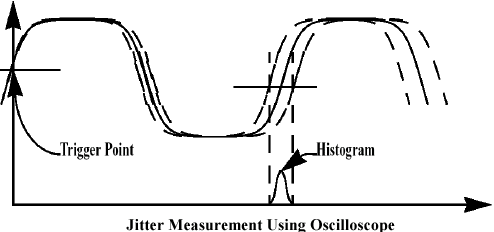 If the standard deviation is high (greater than 35ns) this can cause instability in the clock and data decoding circuitry on target players and hence reduce the readability of the disc. Once again this parameter is more important when considering CD-ROM discs as these discs are likely to be read in high-speed players.