20. AudioMASTER
Writing Quality - Page 20
AudioMASTER
The theory behind this entire "new" recording mode is relatively simple. According to the original red-book standard, the linear velocity of the laser beam, at 1x reading speed, over the CD's surface is allowed to vary between 1.2 and 1.4 meters per second. Anything between these extreme values is acceptable and all CD players, even the most archaic ones, are expected to be compliant when a disk is recorded at such a speed. This speed might even be non-constant for a single disk, as long as its variation is limited within certain bounds prescribed by the above standard.
As some of the older among this audience might remember the first recordable disks where of a lower capacity, in the area of 63 minutes. Remember this, as we will move on to our technical explanation below.
Consequently, when recording takes place at a higher linear speed, the length of the pits is proportionally greater. In particular, at 1.4m/s, this length is about 15% greater than the length of the same pit at 1.2m/s.

In real life, the pit length depends on several factors and matches the theoretical figure within a certain amount of uncertainty (error). During a disk reproduction, this type of errors is reported as "jitter". In "digital" terms, these errors are reported as C1/C2 errors.
Using a photo detector on the analog signal that passes through the laser diode on the pickup mechanism of a drive, increased jitter is seen as more "blurring" in the following pictures taken from a Yamaha white paper: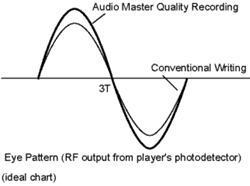 | | |
| --- | --- |
| Audio Master Quality Recording | Conventional Recording |
| | |
It has been found by laboratory experiments that this uncertainty is mostly irrelevant to the pit length. So a 15% longer pit contains about 15% less pit-length uncertainty! This is the crucial point in all of our discussion here. That is: a 15% recording/reading speed increase results to about 15% less errors in the pit-length.
A somewhat simplistic argument might suggest an analogous decrease in jitter. In fact, the Yamaha marketing department seems to take into account the uncertainty on both sides of a pit and claims (an erroneous according to our opinion) 30% jitter decrease when recording at a 15% increased linear speed. Overall, this new Yamaha "discovery" seems to make use of an old recording mode that was presumably in use several years ago during the initial market introduction of commercial recorders.