2. Pits and Lands
- General information about Pits and Lands
An enlarged view on top of a CD shows a picture like this.

Pit structure
In a CD-player, a laser beam with a specific wavelength detects the digital code by determining the lengths of the pits and the lands. Therefore, it is important that the shape of the pits as well as the intervals meet the necessary preconditions. In the pit structure the next basic parameters can be recognized:

Typical pit parameters
Each pit is approximately 0.5 microns wide and 0.83 microns to 3.56 microns long. (Remember that the wavelength of green light is approximately 0.5 micron) Each track is separated from the next track by 1.6 microns. The leading and trailing edge of the pits represent ones and the length of the pits represents the number of zeros. The space between the pits, called lands are also of varying lengths representing only zeros.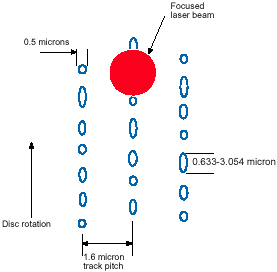 The CD laser 'reads' the pit-information by processing the reflected wave signals. The reflection is caused by the aluminium layer of the CD. The laser beam that is focussed on the pit track 'recognizes' the transition between pits and lands.
Thus not the pits or lands itself but the pit edges are responsible for data information. The pits are encoded with Eight-to-Fourteen Modulation (EFM) for greater storage density and Cross-Interleave Reed-Solomon Code (CIRC) for error correction.