Thermaltake Golden Orb II
1. Introduction

Thermaltake is one of the most well known manufacturers of PC cooling solutions and PC case modding accessories, among other things. Even though it was founded in the late 90's, 1999 to be specific, it has managed to become one of the top brands in cooling solutions, with a wide range of products that provide excellent solutions to "thermal" problems. Among their list of products lies the Golden Orb series, consisting of cooling solutions for both Intel and AMD CPU systems. In this review, we will be taking a closer look at the latest Golden Orb cooler, the "Golden Orb II" which is compatible with both the 775 and AMD K8 socket CPUs.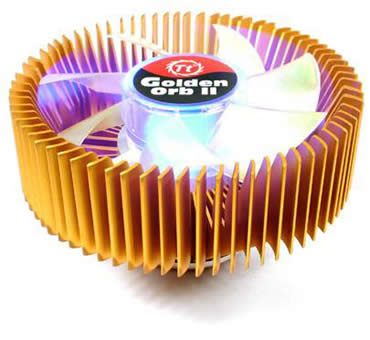 The Heatsink...
This time round, unlike with most Golden Orb products, we do not have a fancy system of multiple heat-pipes. What we have is a Copper Core & Aluminum Extrusion (66Fin) heatsink, with a 100mm diameter by 24 mm height fan, spinning at 1600 RPM and producing 35.43 CFM (Cubic Feet per Minute) airflow. This gives us the required cooling output for the abovementioned CPUs at such slow fan speeds.
The dimensions of the Golden Orb II
The reason for the efficiency and effectiveness of this device lies primarily in the 66 Aluminium Fins and not so much in the fan.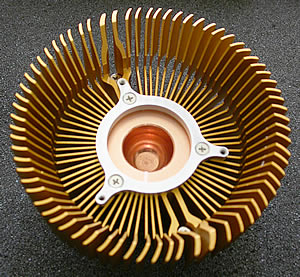 After removing the fan, we can take a closer look at the copper base and fins..
Features...
The Golden Orb II, is based on the latest technology from Thermaltake and features : Radiating aluminum golden fins which provide a sufficiently large surface area for heat dissipation, a Copper core which fits right onto the CPU, the Silent Fan with blue LED for case modding enthusiasts, a noise level of only 17dBA, rendering the heatsink quiet and a Universal design for the Intel P4 LGA775 & AMD K8 processors maximizing compatibility
The Golden Orb II Blue silent fan, rotates at 1600RPM, a relatively low rate for a cooler of this magnitude. It is the low RPMs that make this a silent cooler. The successful balance between fins, copper base and fan is what makes the cooler great, without having to resort to rates approaching 3000 RPM as so many other coolers do, in order to achieve well below specification operating temperatures as we will see later on in this review.
The Blue led fan, gives a nice look to the case...
Specifications
Product name

CL-P0220
Heatsink Dimension
120 x 63 mm
Heatsink Material

Copper Core & Aluminum Extrusion (66Fin)

Fan Dimension
100 x 24 mm
Rated Voltage
12V
Started Voltage
5V
Power Input
1.56W
Fan Speed
1600±10% RPM
Compatibility
Intel Pentium 4 (Socket LGA775)
AMD Athlon 64 (Socket 754 / 939)
AMD Athlon 64 FX (Socket 939/940)
AMD Sempron (Socket 754)
AMD Opteron (Socket 940)
Max.Air Flow
35.43 CFM
Max.Air Pressure
1.50 mm H2O
Noise
17dBA
Lifetime
30,000 Hours
Connector
3 Pin
Weight
752 g
Apart from being a silent cooler, the Golden Orb is also compatible with a wide list of CPUs as we can see from the specification table above, with support for one Intel based processor (the 775 socket) and the four AMD processors.
A view from the underside of the Thermaltake fan. You can just make out the manufacturing date, June 05 2005, top of centre.
As for the installation procedure with the different socket types, you merely have to choose the appropriate brackets and the retention clip for Intel CPU, or the backplate for AMD CPUs. The procedure, as we will see in the following page, is easy in both cases and we will be taking a closer look at the AMD installation, since our test PC was an AMD.