Thermaltake Bigwater 760i
2. Features, Specifications
- Features
Dual 5.25 Drive Bay design: liquid cooling system in-a-box to save the space in the chassis and simplifies installation
Mesh design front bezel enhances ventilation
Easy to install and refill.
12cm Motorsports Radiator :
1. DTT - Dimple Tube Technology swirls the coolant within the radiator to increase thermal transfer.
2. An all-aluminum radiator featuring expanded outer fins and tube style for maximum performance.
Slim Pure Copper Waterblock:
1. Micro-Channel Design within the waterblock maximize the thermal efficiency
2. Advanced Brazing technology improves reliability and leakage free
3. All-in-one mounting design supports all latest CPU from Intel & AMD. (Includes: Intel Socket LGA775 and AMD K8/AM2.)
Ultra-low noise fan: silent variable fan with blue LED (1600 ~ 2400rpm).
High-performance Liquid Pump:
1.Silent and powerful P500(500L/hr) pump provide superb reliability
2.The ceramic bearings significantly extend the life-expectancy of the pump.
Quick connector:
1. Quick Disconnect Coupling: Valves shuts off water flow immediately when dismantling to prevents water leakage
2.User friendly Quick Install Connector saves you time and energy.
Durable 3/8" Tube: Special material to prevent wear & tare from being clogged up or over bending.
Refill Reservoir: Transparent reservoir contains 350c.c. of liquid capacity, easy to refill
P500 Pump: Flow rate : 500L/hr, can easily handle extra water blocks for GPU, memory, HDD or chipsets.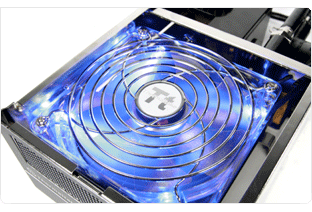 Silent VR Fan: Adjustable 120x120x25mm blue LED fan, (1600~2400RPM)
CPU Water Block: Pure copper waterblock designed with brazing technology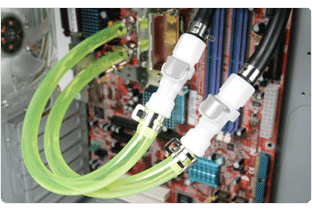 Quick Disconnect : Automatic non-spill valves, robust material, one hand operation
Motorsports Radiator: Dimple Tube Technology with louvered fin radiator greatly increases the surface area for added cooling capability.
- Full specifications
P/N
CL-W0121
2U Bay Drives
Dimension
232mm(L) X 148.6mm(W) X 85mm(H)
Weight
1.3(kg)
Application
CPU
AMD AM2 series
AMD K8 series
Intel LGA775
Intel P4
Water Block
Material
All copper designed
Dimension
58mm(L) X 58mm(W) X 35mm(H)
Quick install connector
For 9.5mm ID (3/8") tubing
Weight
311(g)
Pump
Dimensions
75(L) x 70(W) x 75(H) mm 
Bearing
Ceramic bearing
Maximum Capacity
500 L/ hr
Rated Voltage
DC 12V
Input current
600 mA
Connector
4 pin
Noise
16 dBA
Life time
80000 hr (MTBF) 
Radiator
Dimensions
153(L) x 120(W) x 28(H) mm
Material
Aluminum
Tube Design
Aluminum, Dimple
Fin Design
Aluminum, Louvered
Quick install connector
For 9.5mm ID (3/8") tubing
Fan
Fan Dimension
120(L) x 120(w) x 25(H) mm
Fan Speed
1600~2400 RPM
Rated Voltage
12V
Noise
16 ~20 dB
Life Expectancy
40,000 hr
Connector
4pin
Liquid Tank
Dimensions
72.4 (L) x 70.5(W) x 69.4(H) mm
Capacity
130 c.c
Quick install connector
For 9.5mm ID(3/8") tube
Tube
Dimensions
9.5mm ID(3/8") tube
Material
Green UV
Coolant
Capacity
500 c.c
Major Material Ingredient
Ethylene Glycol