Thermaltake Bigwater 760i
3. The retail package
Thermaltake's Big Water 760i product costs around $155 (+ shipping). The retail package is big and has a carrying handle on top:
Opening the box unveils what's inside, everything is well placed and secured:
On top we can find two printed manuals, 4m of 9.5mm (3/8") UV sensitive tube and at the white box, clips and screws for the water block. Getting to the bottom of this box we can see more, each component is safely secured at its place and everything is well organized. The bay drive liquid cooling system, 500cc of UV sensitive coolant, the refill bottle and finally the CPU water block.
Thermaltake has included a massive 4m water tube with standard 3/8" diameter. The refill bottle is also a very useful addition: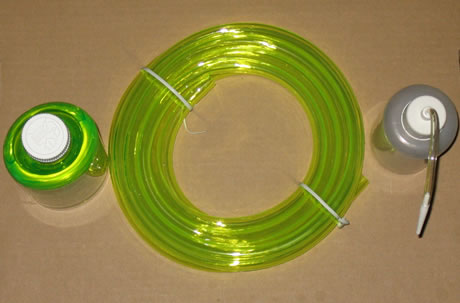 Here is what's included in the white box, many screws, metal H-type clip for the waterblock installation, thumb nuts, thermal compound and a couple of hose clips for the tube.
The water block in close up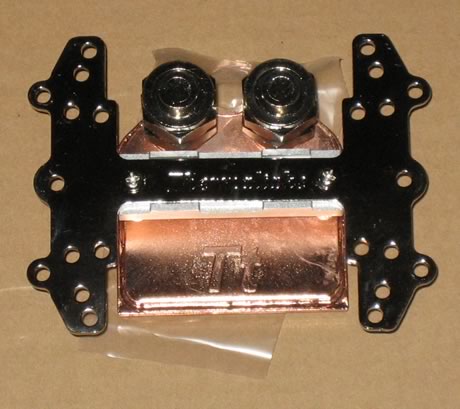 and at the bottom. We can clearly see that it's fully made of copper, although it isn't completely smooth and there are some small marks visible on the surface:
The 2U bay water cooling system has a black finish with the logo and model name written in silver. You can see the small grid opening for the fan to suck air.
Here is the top view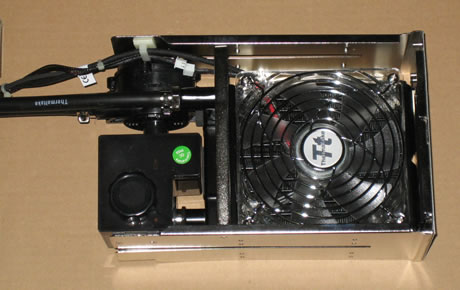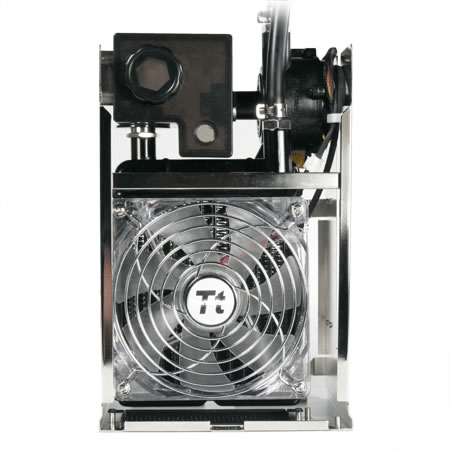 And the bottom
At the back we find the pump. Thermaltake promises that can easily handle extra water blocks for GPU, memory, HDD or chipsets.
The refill reservoir holds up to 350 c.c. of liquid. It's very easy to refill by unscrewing the cap and using the provided refill bottle. There are two indicators, low and high, the liquid level should be in the middle. Be careful and don't try to surpass the High level indicator because placing back the cap will cause the coolant to overflow and create a mess. Thermaltake should had taken care of this issue...
All cables/wires that are coming with the unit are sleeved in black mesh and bound together with plastic wire ties. The two main tubes connected with the P500 pump have a tag and a very easy to hook/remove system with the quick connect connectors:
You need to add power to the Thermaltake 760i from the main system. The green screw handles the rotation speed of the fan and at full speed the system makes a lot of noise...