4. Conclusion
Thermaltake's Toughpower offers very high performance with unique features. The adoption of a 14cm rotating fan can make a difference. Even at full load the PSU will raise the RPMs in order to keep internal temperatures low, resulting in some noise. The 1200Watt edition offers what no-other power supply offers, the first 8pin cabling system for next generation graphics cards and plenty of connectors for storage devices, like HDDs and optical drives.
There are three 6-pin and three 8-pin PCI-E connectors for VGA cards as well as the next trend in graphics which is to include physics cards which is why Thermaltake offers three PCI-E connectors at both 6 and 8pins. Don't forget that there are also eight SATA, eight Molex and two FDD connectors available too! The modular cable design will free up valuable space in your case and help keep internal temperatures lower due to better air-flow. All cables are tagged for easy identification also.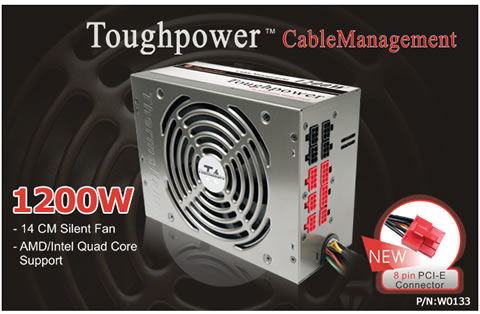 Passing on to the product's performance, we saw the least deviation measured on voltages of any PSU we have measured in our labs. Of course, we didn't have very high-end graphics cards (like 2x8800GTX) but we believe that this power supply will handle just about whatever you throw at it. Thermaltake also offers a 5 year warranty, important for such a high priced power supply..
Overall, this product screams in both specifications and performance. We have no complaints, Thermaltake has managed to introduce an innovative product for power users, but of course with the corresponding price tag.
- The Good
1200Watt output
5 year warranty
14cm fan produces little noise
Good modular cable management
Low noise under average load
All cables are tagged for easy identification
Active PFC design
ATX v2.2 certified, Nvidia SLI ready
Plenty of connectors
- The Bad
Larger sized than other PSUs
Costs almost US$400!