1. Introduction
Thermaltake's devotion to innovative products shows itself once more with the arrival of the first ever 1200Watt power supply. The press release made an impact among users since for the first time, such a high powered power supply was announced onto the market. But why would someone need such a power supply, when most needs can be covered with a good 600W PSU? The answer lies in the recent arrival of next generation video cards, sporting Nvidia's 8800GTX and ATI's R600 GPU chipsets.
- Thermaltake Toughpower 1200W
Thermaltake Technology launched a 1200W as well as a 1000W product back in February 2007. The new additions are the response to the demands for higher power from both ATI and Nvidia graphics card that allows for unprecedented graphics realism and image quality. Today's high-end graphics cards will draw as much as 300W of power alone and with the popularity of multi graphics card configurations, users are expected to allocate aside at least 600W just for graphics cards.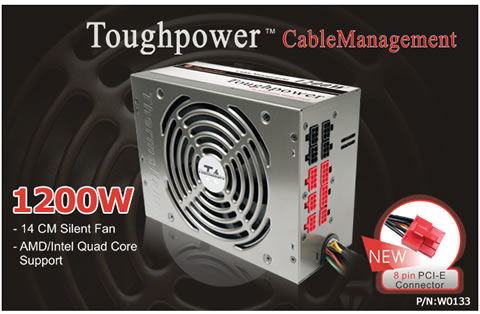 Toughpower 1000W and 1200W will both feature three industry first 8-pin PCI-E connectors as well as three original 6-pin PCI-E connector configurations to support the Quad GPU system setup. The 8-pin PCI-E connector is the next generation standard power connector for both ATI and Nvidia high-end graphics cards; it is downward compatible with the existing 6-pin PCI-E connector with an 8 pin to 6 pin converter. Hence, even though there are only 6-pin sockets available on the graphics cards, Toughpower 1000W/1200W can still run Quad GPU systems with no problem.
Unlike competing power supplies with only one or two 12V rails, four dedicated 12V rails, tightly regulated voltage (±3%) and Active PFC found on Toughpower, provide unparalleled reliability and stability. The use of industrial-grade voltage controllers and on time control enables high-efficiency across all rails that exhibit up to 87% efficiency even under high-loads. This significantly lowers operating cost in addition to lowering thermal overhead, especially for users who operate their PC continuously.
Toughpower 1000W and 1200W both comply with the most recent Intel ATX 12V V2.2 for desktop and EPS 12V V2.91 for workstation or server platforms. On top of the three 6-pin PCI-E and three 8-pin PCI-E connectors, eight SATA power connectors and eight Molex connectors present a full array of future hardware upgrades. Cable Management feature eliminates clutters inside the chassis for great system airflow and improved thermal management. Ultra-quiet dual ball bearing 14cm fan with automated thermal control only increases fan speed when needed and maintains lowest noise level during idle or low power usage status.
Over Voltage Protection (OVP), Over Current Protection (OCP), Short Circuit Protection (SCP) and No Load Operation Protection are all the standard safety protection features found on each and every one of Thermaltake's power supplies.
- Features
Stable 1200W continuous output (at 50℃ operating environment)
Four independent & dedicated +12V rails (12V1,12V2,12V3,12V4) provides superior performance for PC system. (combined loading of 99A)
Three 8pin and three 6pin PCI-E connectors design supports Multi-GPU Graphic card. Supports Dual Core CPU / Quad Core CPU / Nvidia SLI & Quad SLI and all Multi-Core GPU technologies.
Modularized Cable Management to eliminate clutter and improve airflow inside the case.
Independent Voltage Circuit: offers unflappable current delivery under heavy load.
Strict voltage regulation (±3%): provides steady voltage for system.
Active Power Factor Correction (PF>0.99) and high efficiency (up to 87%).
Industrial grade components (capacitor, transformer, etc)
High reliability: MTBF>120,000 hours.
Quiet and reliable 14cm ball-bearing fan.
Protections: Over Current, Over Voltage, Under Voltage, Over Temperature, Over Power, and Short-Circuit protection.
Safety / EMI Approvals: CE, CB, TUV, FCC, UL, CUL, and BSMI certified.
- Specifications
| | |
| --- | --- |
| Model | W0133 |
| Power | 1200W |
| Dimension | 200mm(L)x160mm(W)x86mm(H) |
| Switches | ATX Logic on-off additional power rocker switch |
| PFC | Active PFC (PF > 0.9) |
| Cooling System | 140mm Fan, 2300RPM ± 10% |
| Noise | 16 dBA at 1300 RPM |
| P. G. Signal | 100-500 ms |
| Efficiency | up to 87% |
| Hold-up Time | 16ms |
INPUT

Input Voltage

115 VAC ~ 230 VAC

Input Frequency Range

47 ~ 63 Hz

MTBF

120,000 hrs minimum (at 25 ℃)

Input Current

15A
OUTPUT

Voltage

+12V1

+12V4

+3.3V

+12V2

+12V3

+5V

-12V

+5Vsb

Max/Min

20A/1A

36A/1A

30A/0.5A

20A/1A

36A/1A

30A/0.5A

0.8A/0A

3.5A/0A

Regulation *1

+3,-3%

+3,-3%

+3,-3%

+3,-3%

+3,-3%

+3,-3%

+10,-10%

+3,-5%

Ripple & Noise *2

120mV

120mV

50mV

120mV

120mV

50mV

120mV

50mV

Max Output

600W

600W

9.6W

17.5W

Total Power

1200W


*1. +5Vsb operate at 3.5A max load base on PS-ON mode. If PS-OFF +5Vsb only operate
at 3A max load.
*2. Add 0.1uF and 47uF capacitors across output terminal during ripple & noise test.
ENVIRONMENT

Operating Temp.

10 ℃ to 50 ℃

Storage Temp.

-20 ℃ to 70℃

Operating Humidity

20% to 90%, non-condensing

Storage Humidity

5% to 95%, non-condensing
PROTECTION

DC rail

Trigger Point/Range

Over Voltage Protection

+3.3V trip point

4.5 Vmax

+5.0V trip point

7.0 Vmax

+12.0V trip point

15.6 Vmax

Over Current Protection

+3.3V

33A ~ 50A

+5.0V

33A ~ 50A

+12V1 & +12V2

22A ~ 35A

+12V3 & +12V4

39A ~ 55A

Under Voltage Protection

+3.3V trip point

2.0 Vmin

+5.0V trip point

3.3 Vmin

+12.0V trip point

8.5 Vmin

Short Protection

All output to GND