2. A Closer Look
First thing we need to do is charge the built in rechargeable battery.
Charging time for first time use is 3 hours. You can use the recharger that comes with the device, or connect the USB cable while keeping the menu button pressed. This forces the MP-8000 to switch to charge mode automatically.
Features are one thing and looks another, and today they both count. That is, any device or gadget that is loaded with features isn't necessarily going to be a great hit with consumers. This is where Teac MP-8000 is an immediate winner. The first time you lay your eyes on it, you'll like it. It's slim and elegant with a large color screen and a large oval, multi-purpose navigation button with four smaller silver buttons next to it.
The LCD screen is adequate in size and very bright, something that helps a lot, especially in bright sunlight. You can easily change the default background picture with one of your own.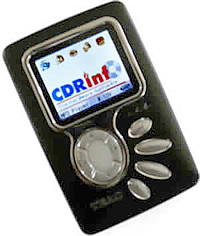 Navigation through the menus is very simple and straightforward with the buttons. The buttons themselves have a different function depending on which mode the device is in at any particular time. They have very good response and a positive touch although the navigation button wasn't the most accurate we have ever used.
The headphones output is located on the right hand side of the device, something that isn't so comfortable (and perhaps secure) when you carry the MP3 player in the inside pocket of a jacket. TEAC does however provide two different set's of headphones, one of which has a curved jack, which sits much nicer inside a pocket.
At the top of the MP-8000 we find the built in microphone, which by the way works just fine. This makes it ideal for use as a journalist's voice recorder or even a Dictaphone. Any recording will be automatically saved as an audio file in MP3 format.
At the bottom of the device, we see the Line In input where we can connect an external audio source and make recordings directly to the hard disk. Just next to the Line In, we see the white sticker covering one of the screws that opens the case of the MP-8000. Needless to say that tampering with this will void any warranty.
Next to the Line-In input, there is a rubber cover that protects the reset button and the USB port interface. The reset button is needed in case the device hangs on us, something that never happened while we were testing the device. And believe me when I say that the device went through torture in our hands. The USB port, other than being for connecting with a PC for file transfers, is also the power source for recharging the rechargeable Lithium battery.