1. Introduction
MP3 players nowadays come in every shape and form, and with increasingly more and more capabilities and features. It's a little bit funny if you think that some years ago the MP3 format was considered a "pirate" format and was only for the few that wanted to exchange music over the net.
It all started in the mid-80s, in Germany at the Fraunhofer Institut, where with the help of a University professor named Dieter Seitzer work began on a high quality, low bitrate codec. In 1989, Fraunhofer managed to patent the codec and a few years later, it was submitted to the International Standards Organization (ISO) and integrated into the MPEG-1 specification.
Fraunhofer also developed the first MP3 player and opened the road for thousands of other applications to do the same. But it was the Winamp player that helped the MP3 craze begin, and the rest is history.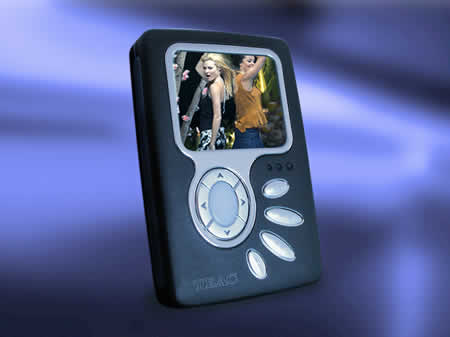 And here we are today with search engines making it easy to find all genre of MP3 files, while desktop and portable MP3 players flood the market.
One of the latest additions in TEAC's portable MP3 player "weaponry" is the MP-8000. A portable device, that provides 20GB of hard disk space for music and data storage. The interesting thing with this device is that apart from being able to play MP3 and WMA audio files (and believe me, you can really store a lot of music inside this gadget), it can also play videos and display photographs. And if that's not enough, it also comes with some interesting games to play, in case you get bored listening continuously to music.
To be more specific, the new Teac MP-8000 supports the 3GP video format which is widely used in mobile devices like the new generation mobile phones. The device also has the ability to reproduce photographs in the JPG, BMP and GIF formats, something that covers most of the popular picture file types. And where exactly we will you view these pictures? Well, the MP-8000 has a color LCD screen with a decent resolution of 160x128 pixels. For data transfer, it uses the speedy USB 2.0 protocol, and believe me that"s a relief because with 20GB of storage space, you would lose valuable time waiting for data to load.
Needless to say that this device is the best solution for a portable external disk, since it's small and can carry 20 times more data than the average USB flash drive. And if you think that the features stop there, then hold your breath, because there are more to come. There's also a very good quality receiver for all you radio fans, with the ability to store 20 of your favorite radio stations and a built in microphone so it works as a voice recorder too.
Are we finished?
No, of course not, because thanks to its Line–In input, this miracle gadget can record audio from alternative sources such as as a stereo system or CD – DVD player. The recorded audio is stored in MP3 format. All these features didn"t have any impact on weight since the device is only 138 grams.

-SPECIFICATIONS
| | |
| --- | --- |
| Memory capacity : | 20 GB, 1,8 inch hard drive |
| Battery : | Rechargeable Lithium battery (800mAH) |
| Battery charge time: | 3 hours |
| Playback time: | 10 hours (standard MP3) |
| LCD: | 160x128 1.8 inch TFT LCD. 65536 Colors |
| USB port: | USB 2.0 high speed transfer |
| FM channel range: | 87.0MHz~108MHz |
| Earphone output power: | 5mW + 5Mw |
| Output frequency range: | 20Hz – 20KHz |
| Record bit rate: | 32Kbps~320Kbps |
| Supported file format: | MP3, WMA |
| Support compression rate: | 8Kbps – 320Kbps |
| Support ID3 language: | all current languages |
| Dimensions: | 92mm x 60mm x 15mm |
| Weight: | 138g |
| Operating Temperature: | 0C – 35C |