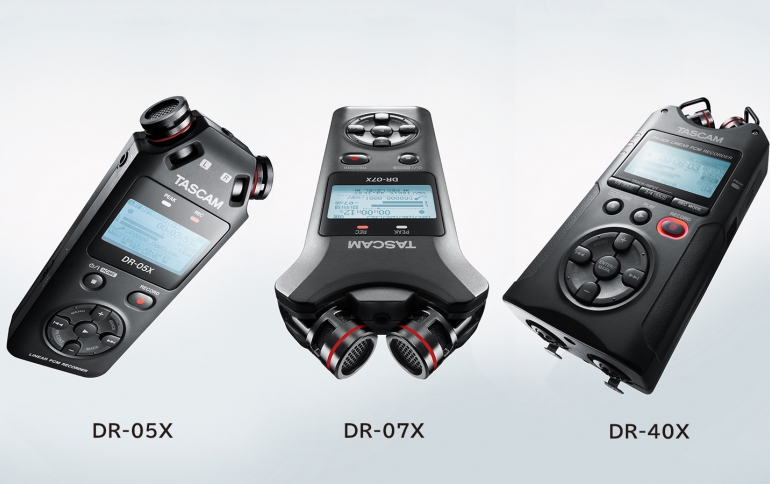 TASCAM Introduces New DR-X Series Digital Audio Recorder and USB Audio Interface
TASCAM has introduced the next generation of their line of professional grade handheld recorders, the DR-X Series. TEAC's company also announced the TASCAM's new SERIES 102i 10-in, 2-out and SERIES 208i 20-in, 8-out audio-MIDI interfaces.
DR-X Series
Designed for videographers, voiceover artists, songwriters, and podcasters, the DR-40X's integrated unidirectional stereo mics with scalable A/B or X/Y configuration, 1/8-inch stereo and dual XLR/1/4-inch combo inputs, built-in phantom power for condenser mics, integrated 4-track capability, and wired remote control option make it an essential tool for DSLR video, music recording, sound design, and more. DSLR filmmakers will love the DR-40X's Auto-Tone function, providing an audio cue tone identifying each recording take.
The new DR-X Series now adds a new model, the affordable DR-07X, designed to deliver professional performance for musicians and voiceover artists. It comes with dual integrated scalable unidirectional A/B or X/Y configurable mics for music recording, spoken word, and more.
Incorporating all of the DR-07X's features minus the scalable microphones, the DR-05X is equipped with a pair of omnidirectional condenser mics, making it the ideal tool for recording music, meetings, dictation, and more.
The DR-X Series also incorporates a studio-quality 2 in/2 out USB audio interface that makes all DR-X Series recorders a perfect fit for live streaming, podcasting, and digital audio workstations.
All DR-X models boast a revamped user interface, making it easy to access recording, adjusting levels, deleting takes, adding markers, and other common functions with just the click of a thumb. Multi-language menus in English/ Spanish/ French/ Italian/ German/ Russian/Chinese/ Korean/ Japanese/ Portuguese are included. And with increased capacity for microSDXC cards up to 128GB, DR-X Series recorders can literally record for days on end.
Other features in the DR-X Series include a new bright white backlit display as well as Dictation Mode, which enables the user to instantly jump back audio playback in preselected increments including speed control and a special dictation EQ, and Overwrite Mode, which allows users to select a precise Record drop-in time for replacement recording with one level of undo. The DR-X Series' Auto-Recording function can be set to begin recording when a sound is detected, and its Pre-Recording function delivers fail-safe recordings with up to 2 seconds of pre-record time.
Expandable SERIES USB Audio/MIDI Interfaces
TASCAM also announced the new SERIES 102i 10-in, 2-out and SERIES 208i 20-in, 8-out audio-MIDI interfaces, which deliver 24-bit, 192 kHz recording and playback to a Mac, Windows PC, or iPad.
Controllable with included c ustom software, the two SERIES USB 2.0 interfaces feature DSP input and output mixers with built-in digital reverb, compressor, phase invert, and four-band EQ for each channel. Having these processors included internally eliminates all latency issues and takes the load off the computer allowing the PC/Mac to process the audio more efficiently.
Designed for guitarists, songwriters and small studio owners, the compact SERIES 102i audio/MIDI interface provides 2 analog mic/line/instrument combo inputs with TASCAM's transparent, natural-sounding, low-noise Ultra-HDDA mic preamps and individually switched, +48 volt phantom power. The interface can be expanded up to 10 total inputs using its Optical S/MUX port, which can accept up to 8 channels of audio input from an ADAT- or S/MUX-compatible device. The SERIES 102i also provides dual headphone outputs with dedicated level control and two balanced, 1/4-inch line outputs for versatile monitoring.
The SERIES 208i features four analog mic/line/instrument combo inputs with Ultra-HDDA mic preamps and individually switched phantom power. It can be expanded up to 20 total inputs using a pair of Optical S/MUX ports, each of which can accept up to 8 channels of audio input from an ADAT- or S/MUX-compatible device. Eight balanced, 1/4-inch line outputs enable multiple monitor mixes or up to 7.1 surround monitoring. You also get dual headphone outputs with dedicated level control. Word clock in and out ensures correct synchronization with other digital audio devices.
Both interfaces come with Steinberg's Cubase LE DAW software for Windows and macOS and Cubasis LE app for iPad. The included IK Multimedia AmpliTube guitar effects/modeling software and T-RackS mastering software provide the tools you need to deliver polished recording projects. The IK Multimedia software is provided in both free standing and plug-in versions for recording, mixing, and mastering.
The TASCAM Control software manages faders, processing, and the ability to route any audio input (analog, optical, and USB) to any audio output.
The SERIES 102i and 208i interfaces' angled tabletop design offers easy access to all front-panel controls. A front-panel Monitor knob ensures you can quickly adjust the monitor output level, and a handy Monitor Balance control enables mixing live input with computer playback for zero-latency overdubs. Rear-panel 5-pin DIN MIDI In and Out jacks allows connection of your favorite MIDI devices. A Kensington key lock helps keep your gear safe.