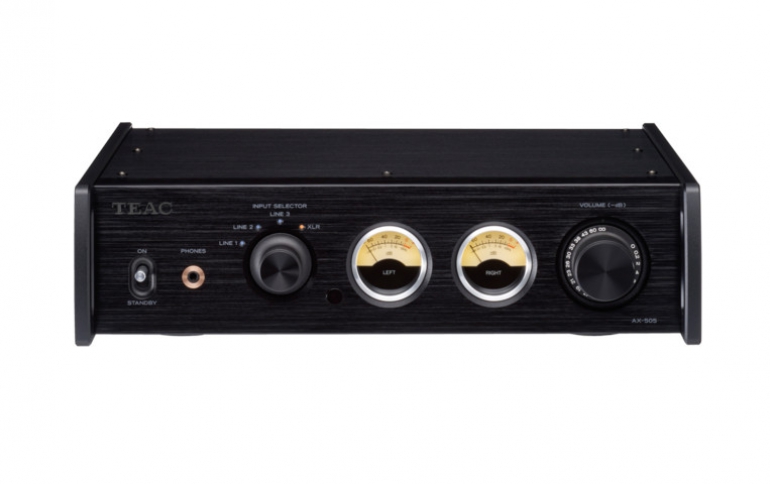 TEAC Announces new High Performance Integrated Amplifier
TEAC has announced its latest integrated amplifier, the AX-505. This stereo integrated amplifier delivers an incredible 115W + 115W of output power with the footprint the size of a sheet of A4 paper.
For its power amplifier stage Teac has employed a new cool-running and highly energy-efficient option, a TEAC-tuned Ncore module by Hypex from the Netherlands.
In addition, the AX-505 also provides high quality headphone listening, via an integrated headphone amplifier, one that that supports 'ground separate' connection.
A pair of level meters on the front panel track musical volume levels as they ebb and flow. A volume control finished with a machined aluminum knob is also there for precise volume adjustment. A passive-cooling design, for completely silent operation, allows the listener to focus on their music without the distraction of fan noise.
Combine this stereo integrated amplifier with TEAC's latest standalone DAC unit, the UD-505, or the NT-505 USB DAC/Network Player and you can revel in all the benefits of high-spec, Hi-Res audio, such as DSD512 and PCM 768kHz content.
For anyone with limited space who wants a full-sized sound and a rather cool retro vibe with their audio, the TEAC AX-505 deserves a closer look. It is available for £1,399.99.
Features
115W + 115W of max output power from a Hypex Ncore power amplifier module, tuned by TEAC
MUSES8920 op-amps for high quality sound
Independent resistor ladder-type volume controls
Large capacity toroidal-core power transformer with Schottky barrier diodes
CCLC headphone amplifier circuit for linear sound
1/8inch (3.5mm) 4-pole headphone jack supporting 'ground-separate' connection
Dual level meter with 4-step dimmable backlight
Passive-cooling design for silent operation
Full-metal body for rigidity, stability and elegance
Compact design with an A4-sized footprint
XLR balanced analogue input
Three sets of unbalanced RCA analogue audio inputs with a wide-pitch connector layout
A set of gold-plated, screw-type speaker terminals compatible with AWG8 cable and banana plugs
Auto power-saving
Remote control included
RoHS compliant