1. Introduction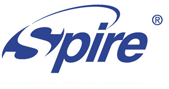 Spire has been producing quality cooling products for all types of CPU processors. Recently, Spire announced a new series of coolers for both Socket 775 and K8 socket, called the "Fourier IV". We tested Spire's proposal against Intel's stock cooling system, comparing noise production, heat dispassion and of course, price.
The Fourier IV is the latest DIY Heat-Sink design to cool both the latest Intel and AMD micro-processors. The Fourier IV is an all new processor cooler based on the Waved-Fin design, equipped with 4 Heat-Pipes." said Vincent Chan, Thermal Engineer for Spire.
Also new on this advanced processor cooler are the swift fan exchange clips enabling you to remove the fan quickly and without tools. When utilizing a low power Celeron or Duo-Core micro processor with good system cooling, using an active cooler is not mandatory as the Spire Fourier IV heat-sink offers exceptional passive cooling qualities on it's own.
The Fourier IV is an excellent DIY option for those who are upgrading their system, enthusiasts and gamers alike.
- Main Features
All Copper High-density Wave Heat Sink
4 thermally improved copper heat-pipes
Ball bearing 90mm blue translucent fan
Silent; Manually controlled PCI Fan Control
Universal Clip for 775 and K8 sockets
Passive or active solution; Swift click on/off fan
- Specifications
Dimensions
Heat sink : 126×107×99 mm (l × w × h)
12VDC Fan : 92×92×25 mm
Bearing
Ball bearing
Rated speed
2000 - 3500 RPM +/-10%
Rated power
2.4 - 4.8 W
Noise level
19.0 - 26.0 dBA
Air flow
36.8 - 58.21 CFM
Life hours
Ball: 50.000
Connector
3 Pin, mainboard
Application
Intel : Celeron D ~ 2.93 GHz (340J)
Core Duo ~ 2.33 GHz (775 Dual-core)
Pentium 4 ~ 3.73 GHz (775 Prescott)
Pentium D ~ 3.4 GHz (775 Dual-Core)
Pentium EE ~ 3.73 GHz (775 Dual-Core)
AMD : Athlon 64 ~ 4800+ (K8)
Athlon 64 FX-51 (K8)
Athlon 64 FX-53 (K8)
Athlon 64 FX-55 (K8)
Athlon 64 FX-57 (K8)
Athlon 64 FX-60 (K8)
Opteron ~ 2.6 (K8)
Sempron ~ 3300+ (K8)