Just picture it… you are sitting in a prison cell. You have been sitting there for years accused of crimes you did not commit. The army sold you out and left you to die. Now, your cell door is broken open. A soldier gives you a bag of clothes, dog tags, and a mission. You are Marcus Fenix. Your mission is to save mankind from the invading Locust Horde. Anything short of their complete annihilation is a failure. You must re-learn the important skills of combat, and you must re-learn to trust the man who put you behind bars in the first place. You are not alone in this mission, but the burden falls squarely upon your shoulders. Are you up to the challenge?
Features:
1-2 player normal Gameplay
co-op Gameplay
1 MB to save data
HDTV compatible in 480p/720p/1080i
Online Gameplay 2-8 players
Online co-op Gameplay
Online content download
Online leaderboards
Online voice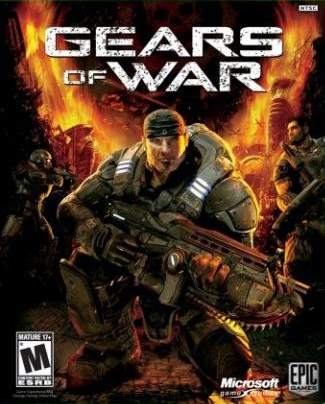 When describing Gears of War to a friend, I said, "Take all of your favorite ideas about video games and just add more blood". Even though it's not for the squeamish, Gears of War truly satisfies all wants. It is no surprise to me then, that it was recently named Game of the Year by Gamespot. The plotline is thrilling and the action is intense, not to mention challenging. The graphics are unbelievable; it is the first game to utilize all of the capabilities of the Xbox360. This was the first game that I bought for the Xbox360, so it was the first time I spent $60 on a game. I still don't understand why the games are so expensive, but now I understand why consumers are willing to pay such a high price. Personally, I do not think Gears of War will be equaled until Halo 3 is released (And yes, I do know Call of Duty 3 was just released).
Controls:
The Controls for Gears of War are a little complicated at first, but are very reasonable and easy once mastered. Mastery of the controls may take some time just because no first person shooter has ever had controls as comprehensive as this before. Some controls are straight-forward. For example: pull the right trigger to shoot. Some controls are farther out there. For example: pull the left trigger to zoom, but with a sniper rifle push the right analog stick to zoom in further. Though complicated at first, the controls are explained very well in the tutorial and mastery is certainly not impossible.
Storyline:
Gears of War boasts the most enthralling storyline I have ever encountered in a video game. A soldier in jail for treason he did not commit ends up becoming the savior of the human race. It seems pretty simple, and the basis of it truly is. Where the real genius lies, however, is in the twists and turns in between point A and point B. Just when you think you have succeeded in a mission, there is something that goes wrong. It is not a short storyline either. This is a lengthy game and it is not easy to beat. Marcus Fenix, the main character, quickly rises up the army hierarchy at the tips of your fingers. You enjoy success when he enjoys success, and you loathe in failure when he does. Most importantly, the storyline is neither predictable nor boring.
Overall Gameplay:
Ok so let's review: amazing graphics, comprehensive controls, and a fantastic storyline. Sounds like Gears of War has everything you could ever want in a video game, right? But wait, there's more. There are three levels of Gameplay: casual, hardcore, and insane. The action never stops, and the enemies are ruthless. Gears of War is extremely challenging and often times frustrating because of the high difficulty level, and that's in casual mode. Put this in perspective: the game will not allow you to play insane mode until you beat it on hardcore. If you are looking for a challenge, this is your game.

My favorite part about this game is that there is never a dull moment. There is simply never a lull in the fighting. No matter where you go, the enemy is there. No matter what you do, there is always more to come. The excessive amounts of gore actually add to the flavor of the game as opposed to making the game appalling. I am not one of those blood thirsty gamers who seek to destroy their enemies in the most disgusting was possible. Gears of War does give those blood thirsty gamers the opportunity, though. Less gore-orientated played can get through the game without being disgusted, just don't use the chainsaw.
Created by Microsoft Game Studios and Epic Games. Available in retail stores for US$59.99