Spire Thermal Eclipse II review
2. A closer look, installation
The Spire Thermal Eclipse II retails for about ~ $53, which is a decent price for a heatsink of this category. The device is packaged into well-designed carbon box:
The package includes the TherMax Eclipse II heat-sink, two BlackStar 120mm DC Fans, 8 anti-vibe rubber fan mounts, BlueFrost thermal interface compound, Intel universal mounting set, AMD universal mounting set, Motherboard back-plate, user installation manual and a warranty registration card:
The Thermal Eclipse II is a medium-sized heastink measuring 131×70×152 mm (l × w × h). It stands 155mm tall and weighs 830gr, which means that your motherboard will have to bear with more than 1kg of weight with the the dual fans installed.
The Spire heatsink is constructed around five 8mm diameter copper heatpipes. It has exposed heatpipes at the base and an "X" pattern that positions heatpipes in the path of higher velocity air. The heatpipes assemble the base of the cooler, following the popular and effective direct touch design. The produced heat is transferred directly from the cpu to the heatpipes and to the 46 stamped aluminum wide fins.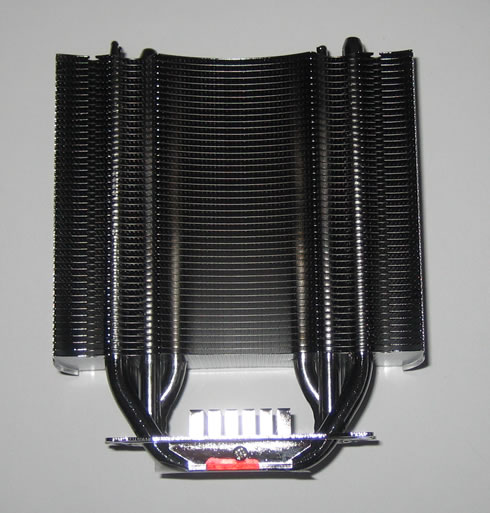 Below you can see the base of the heatsink. The 5 heatpipes are stacked side-by-side at the bottom of the heatsink, with a small 3mm wide strip between each. The base is flat the five heatpipes are all flattened to slightly different levels:
Installing this cpu cooler wont' take you much. First of all you need to remove motherboard from the PC case. Then you will use the bundled back plate and fasten it using four screws.
The heatsink mounts to both Intel and AMD motherboards using a permanently attached metal bracket.
Apply thermal paste, carefully place the heatsink on the right place secure it using the four spring loaded bolts.
The two cpu fans are secured via rubber vibration absorbing mounting posts. Both 120mm fans are non-PWM, so they rotate at a fixed 2200RPM all the time:
Here is how our system look like after installing the Thermal Eclipse II heatsink with both 120mmm fans mounted. As you can see its volume is bigger now but hopefully, the surrounding area is free enough to make installation easier. There is also free space left right above the memory banks: