Shuttle XS 3510MA ION2 mini-pc
7. DVD Burner tests
The system's ODD comes from Toshiba/Samsung (TSST), model TS-L633C. The SATA drive has Ver. TM01 firmware installed. As you can see in the screenshot below, the drive supports CD-R,CD-RW, DVD-R/-RW/-R DL/-RAM/+R/+RW/+R DL discs for both reading and writing.The writing/reading speed goes up to 8X, which is a typical for a slim-type DVD burner:
Of course, do not expect to run our usual ODD tests with this drive. This could take way too much time and of course, testing the TS-L633C in detail is not the purpose of this article. However, we run some quick tests that will show you the DVD writing strategy of the drive at the maximum 8x speed as well as its reading capabilities.
We used an AML 003 16x DVD+R disc. The disc can be burned at 8x and below you see the writing process:
After around 10.38mins, our burning graph was ready. The drive uses the P-CAV burning method for 8X, which results to an average burning speed of 5.78X average writing speed. The CPU % utilization of our Shuttle system was very low during the recording of the disc.
The disc was fully readable at 8X CAV: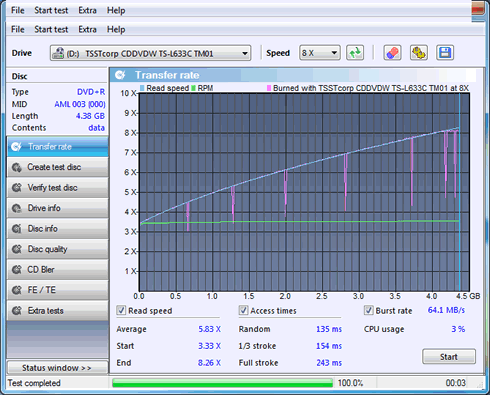 Finally, the PIE/PIF error writing quality results are also encouraging. The quality of the burn seems to be OK, with the The PIE error rate to stay well below the 280 limit and no POF errors (uncorrectable) reported.