Shuttle XS 3510MA ION2 mini-pc
8. GPU tests
Possibly the most important and interesting feature of the Shuttle XS 3510MA system is its Nvidia ION 2 graphics core. The "GT218" GPU is clocked at 500 MHz, it has 8 Unified Shaders clocked at 1070Mhz, 8 ROPs units, 512MB of RAM running at 700 MHz and a 64 bit bus width. The only working drivers with the ION 2 were the included GeForce 257.30, while the latest beta (260.63) drivers could not be installed.
Nvidia's ION 2 platform is also supporting Hardware Video Decode Acceleration for both SD and HD, NVIDIA CUDA Technology, Microsoft DirectX up to 10.1 and OpenGL 3.1: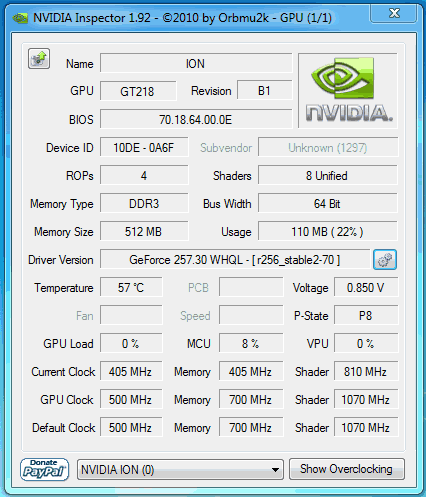 We run some first tests using the FutureMark 3DMark 05 and 3DMark 06 benchmarks in order to get an idea of what kind of performance we should expect from Nvidia's ION 2 graphics:
But how about real gaming? The Shuttle XS 3510MA with ION 2 on board can deliver acceptable frame rates provided that you use resolutions of up to 1024x768 pixels and set the quality settings at not any higher than the middle level. Following that rules, the StreetFighter IV benchmark gave around 37.00 FPS. However, the Lost Planet 2 Benchmark under the DX9 test with the resolution set at 800x600 pixels and all the visual details set at their lowest values, we only got 12.1 FPS - not a very encouraging result..
Passing to the video playback performance, we used the latest VLC media player and we enabled the GPU acceleration. Starting from 720p files, the DivX "Big Bunny" trailer was playable with the cpu reaching the ~20%. Next, we tried another 720p H264 file again and the video playback performance was perfect. After that point we moved to full 1080p x264 with DTS audio. Although the video was playable, in many cases the playback was a little bit jerky.