Inno3D GTS 450 iChill Freezer Edition review
1. Meet the Inno3D GTS 450 iChill Freezer Edition
Inno3D has released the GeForce GTS 450 Freezer X Series, a graphics card based on Nvidia's GeForce GTS 450 design. The card is equipped with Inno3D's Freezer Edition dual-fan cooler, it has a custom blue color PCB and it is also factory overclocked.
Nvidia 's GeForce GTS 450 promises to deliver the DX11 price/performance in the $139 USD price category. The card has been designed for LAN gamers and it is capable of delivering high DX11 performance with 4X antialiasing turned on at resolutions of up to 1600x1050.

The GeForce GTS 450 is based on the GF106 Fermi chip, it has 192 CUDA cores clocked at 783/1566 Mhz (Gfx/Proc clock) and 1GB/128-bit GDDR5. The GF106 GPU is smaller in size than the previous Fermi chips, it produces less heat, supports higher voltages and hopefully better overclocking performance.
The card has been designed for LAN party gamers and it has been optimized to deliver significantly higher gaming performance than rival's offerings, the AMD HD5750 and the HD5770 series.
Below are the product's specifications compared with other Fermi GPUs:
GeForce GTS 450

GeForce GTX
465

GeForce GTX
470

Stream (Shader) Processors

192

352

448

Core Clock (MHz)

783

607

607

Shader Clock (MHz)

1566

1215

1215

Memory Clock (datarate MHz)

3608

3206

3350

Memory amount

1024MB

1024 MB

1280

Memory Interface

128-bit

256-bit x2

320-bit

Memory Type

gDDR5

gDDR5
Looking at the specs, we can easily understand that the GTS 450 series are meant to be an entry-level product with less Stream (Shader) processors and an 128-bit memory interface compared with its older "brothers". Priced at $139 the card essentially replaces the GTS 250 series and competes with the ATI Raderon HD 5750 series. The product is advertised capable to have high overclocking margins, allowing many manufacturers to introduce their own GTS 450 implementations solutions with higher core/memory voltages.
Nvidia claims that for games and applications that feature tessellation -- the key feature of DX11 -- the GTS 450 is up to 65% faster than the closest competitive product. Even in last generation DX9 and DX10 games, the GTS 450 is faster by over 30%, including in the blockbuster PC title StarCraft II, Nvidia claims.
The GTS 450 also supports NVIDIA PhysX in-game effects and NVIDIA 3D Vision, for palying 3D in games, Blu-ray 3D, and photos.
- Retail package
The Inno3D GTS 450 iChiLL comes into a black box with the "Freezer X series" logo on it . The product isn't supposed to cost much more than the generic GTS 450 series cards.
The package includes the Inno3D GTS 450 iChiLL graphics card, a printed manual, an installation disc, power cable, DVI adapter and a Starcraft promotion card.
The Inno3D GTS 450 iChill Freezer Edition has a custom blue-colored PCB and a dual fan gpu cooler, which is supposed to be very silent. The cooler uses Inno3D's DTH (Direct Touch Heatpipe) technology where the heatpipe is contacted with the GPU directly. The card measures around 23cm.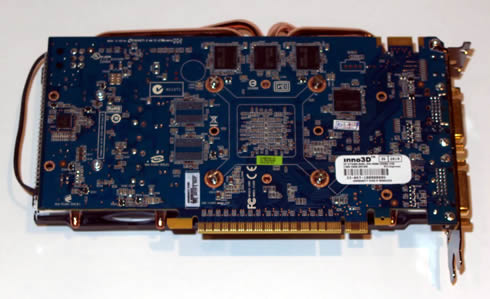 The Inno3D GTS 450 iChill Freezer Edition has also gold-plated dual DVI-D ports and a mini-HDMI port for high-definition material. The HDMI v1.4 supports xvYCC, Deep color and 7.1 digital surround sound and of course 3D output with the NVIDIA 3D Vision technology. The card requires only one PCI-e power cable, meaning it will work with low- powered power supply units..
After installing the graphics card we can find more details about its main features and specifications. The GPU core runs at 820MHz, memory at 950MHz while Shaders at 1640MHz. As you can see the card is slightly overclocked compared over the stock 783/ 902/1566 frequencies: