9. Summary
The Shuttle SP45H7 continues the tradition to produce SFFs (Small Form Factor PCs) adjusted to what people really need. The product supports socket 775 processors and follows the typical design of the Shuttle H7 series of products. The Intel P45 chipset supports Core2 Quad Processors, DDR2 1066(OC), PCI Express Gen 2.0 architecture, 1600Mhz FSB, Serial ATA 3 Gb/s, which is essentially all latest technology packed in a compact device. Shuttle is also continuing to offer top build quality and ergonomics with this new barebone.
Assembling the PC takes only a few minutes since the power supply is included and the SATA cables are pre-installed. All you have to do is to get the memory, the processor and the drives in place. After closing the case, everything runs quietly especially if you have an SSD drive installed.
The BIOS offers several options related to the installed CPU cooler allowing you adjust its operation according to your needs.
The main box may not support large graphics cards such as our MSI 7600GT with passive cooling, but the Asus 9600GT card with normal cooling was a perfect match.
We really have no complains about the internal design, everything is placed in the right position. We liked the eSATA port found on the front panel of the device, but we would also like to see a PS2 port at least on the rear side, for users who own a PS2 keyboard.
The included power supply has has been certified by the 80plus.org and worked just fine during our tests.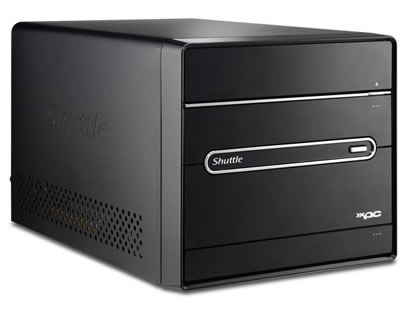 Speaking about performance, we should mention the problems we had in changing the memory dividers. We tried to make the memory run at 533MHz but the was refusing to allow the setting, leaving the memory run at just 400MHz . This had a negative impact in specific benchmarks such as the SuperPI. On the other hand, it did not cost much in the speed of the system in applications such as the x264 benchmark. Anyway it would be great if Shuttle fixed this problem with a firmware upgrade.
Overclocking is possible using the Auto Bios features or with manual settings. However, do not expect any significant performance gain since we couldn't push our C2Q 9300 CPU any higher than 3.0GHz.
Shuttle SP45H7 retails for around $354, making it an ideal solution for users who wish to get a small, affordable and powerful PC.
Positive
- Great build quality in all areas
- Based on the Intel P45 chipset
- Quiet operation
- Great design and aesthetics
- Small dimensions make it ideal for all users
- Four DIMM slots for lots of RAM capacity
- Easy and fast installation
Negative
- Big sized VGA products may don't fit
- Front plate can bend down easily with a small push
- PSU could be higher rated to support the latest graphics cards