6. DAE Tests
Samsung TS-H552 DL Recorder - Page 6
DAE Tests
- Pressed and CDR AudioCD results
The drive supports up to 48X CAV DAE speed. The following results were reported when using Exact Audio Copy.
The Samsung TS-H552 confirmed the 48X reading speed with AudioCD's for which reason the drive was the fasted among the three.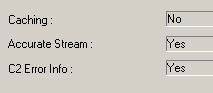 - Advanced DAE Quality
All tested drives received a perfect quality score of 100. The strange thing here is the reported average speed of the Samsung drive, which is very low. We carried out the test twice to make certain and was speed was the same both times.
- Ripping 90mins AudioCDs
- Ripping 99mins AudioCDs
The drive can read/rip flawlessly 90/99min Audio CDs, with a negligible speed drop near the end of the 99min disc.