8. CD Writing Quality - Jitter Tests
Plextor PX-712A Dual DVD±RW Recorder - Page 8
Writing Quality Tests - 3T Jitter Tests
In the following page you can see the 3T Pit & Land Jitter graphs using various media burned at 48X CAV writing speed.
- 3T Pit results
Generally the drive didn't perform very well, at least with the specific media. The highest 3T Pit jitter reached was 47nsec, which was a long way from the Red Book limit (35nsec). The best results came with BenQ 52X CD-R media.
- 3T Land results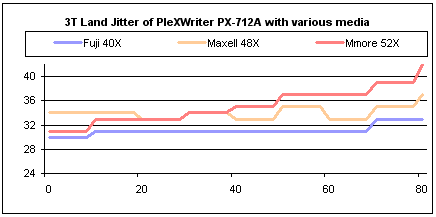 The average 3T Land results were again high for the same media. The maximum 3T Land Jitter also reached 47nsec and the Fuji 40X CD-R media produced the best results.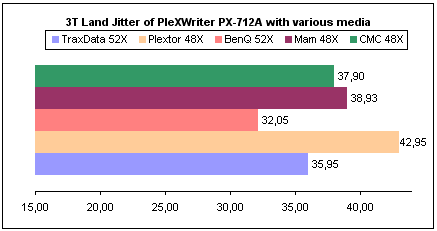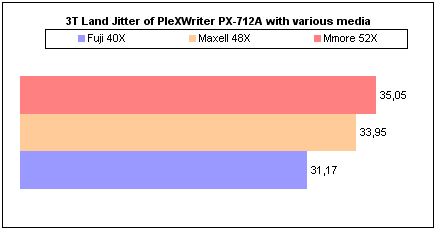 - Conclusion
Thr Plextor PX-712A generally gave average results in the jitter measuring tests. The 48X writing speed does affect both 3T Pit/Land Jitter which sometimes reached even 47nsec. With some media (BenQ 52X , Fuji 40X) the 3T Pit/Land Jitter was much lower. Looking at the burning results, we will see that BenQ 52X media taking 3:07mins to burn, is among the highest burning times.
In the following page we check the C1 and C2 error rates of the same discs, to come up with more conclusive appraisal.