17. Q-Check Tests
Plextor PX-712A Dual DVD±RW recorder - Page 17
Q-Check
Q-Check functions was first introduced by Plextor with the Premium drive. For the first time, an optical storage manufacturer sold a device with built-in media measurement software/features. Plextor, as was expected, added to the PX-712A series the ability not only to check C1/C2 error rates but also PI/PO errors with DVD recordable/re-writeable/pressed media! Let's see the new functions.
First of all, a new option has been added within the Q-Check Beta/Jitter Test, the Q-Check PIPO Test. The PlexTools v2.13 intoduced improved PI/PO tests according to the standards, making the PX-712A ideal solution for measuring error rates from DVD media, or not?...We plan to find out :-)
The PlexTools v2.13 gives a brief description about the three subtests of Q-Check PI/PO test:
Sum8: Test for PI Errors per 8 consecutive blocks (1-8, 2-9, 3-10, etc...) (rows/8ECC)
Sum1: Test for Un-corretable PI per block (rows/1ECC)
Basic Test: Counts the number of bytes/1ECC that are corrected during PI stage.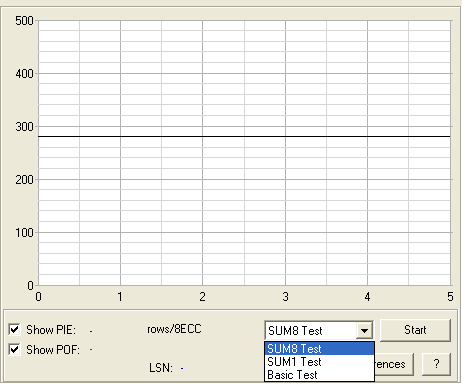 The bold black line represents the DVD standard error limit (280 for PISum8).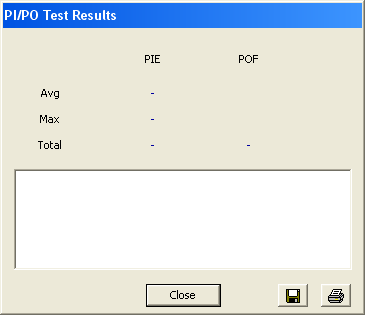 At the log window we can see the realtime statistics (average/maximum/total) of the measurement values.
What exactly is being measured and reported varies from test to test:
Sum8: PIE (Parity Inner Errors) & POF (Parity Outer Fail)
Sum1: PIF (Parity Inner Fail) & POF (Parity Outer Fail)
Basic: PIE (Parity Inner Errors) & POF (Parity Outer Fail)
The Basic test reported error rate is not very useful since it doesn't exactly comply with any DVD standard. The Limits error according to the DVD standards are:
PIE (280)
PIF (4)
POF (0)
As Plextor explains, the existence of PI errors on DVD media is normal, those errors are NOT physical defects and can be corrected by the player's error correction mechanism. It should be noted that the number of reported errors is a combination of specific media + player and usually when we measure a media with many readers we will get totally different results. In case PlexTools reports POF errors, there is a chance that data will become unreadable.
The Q-Check PI/PO test options are not exactly we would have liked. You can only select the displayed Error Limit (100/500 defaults, but you can type any number and automatically scale changes!), the Time Lengh Indication (5GB/10GB) and the Start/End position of the test.
As it stands currently, the Q-Check PI/PO test is performed at 2X CLV, making each subtest last around 30mins (depends on the written data). While at this speed, Plextor promises high accuracy, however we would like to have more reading speed options...
Summarizing our critisim towards Q-Check PI/PO test we would like to:
Have more reading speeds (1X, 4X, 8X even up to 16X)
Being able to create templates for custom scanning (for example split disc into 10 areas and get an average)
Being able to export data at RAW format
Have better graphing abilities (autoscale/zoom-in/out)
Being able to draw seperately either PIE/PIF/POF error rates at its own scaling scale
Being able to add comment(s) to the saved scan
Have the average/max values "printed" at the top right corner among with media ID and media manufacturer
The Q-Check FE/TE and Beta/Jitter tests were also updated to support the DVD format.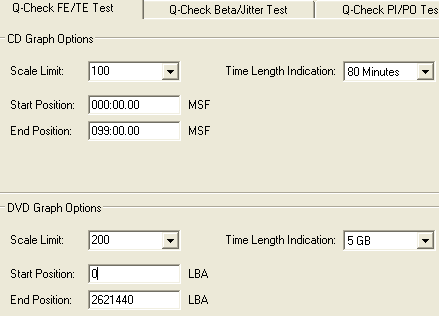 Under the Beta/Jitter Test there is the option to set the sample lenght from 8ECC Blocks to 16ECC Blocks, we are not very sure which should be used for comparing, for our comparison tests we used the 8ECC Blocks option.
And last but not least, we shouldn't forget that the PX-712A can also report/measure C1/C2 and CU errors. Nothing new here (compared with Premium), the same reading options (4X/8X CLV and 10~24 CAV):
For the C1/C2 scans we would like the average/max/total values also printed with the graph instead of a pop up window.