Pioneer DVR-320-s DVD Recorder
11. Compressed Audio Performance
Pioneer DVR-320-S DVD Recorder
Compressed Audio Performance
Compressed Audio (data CD/DVD)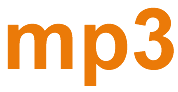 Let's now see how the player responds to various compressed audio files stored on data CD-R/RW/DVD-R/DVD-RW. The specifications for the Pioneer DVR-320-S
indicate MP3/WMA support, but with some restrictions. According to the specifications mentioned in the manual, the DVR-320-S reads MP3 files of any bit-rate, CBR or VBR encoding mode and sampling rate from 44.1 KHz to 48 KHz. It can also read WMA files encoded with CBR, but VBR is not supported. Also, as stated in the manual, the player can read files encoded with the Windows Media Codec 8. Audio encoded with Windows Media Codec 9 is not guaranteed to play.


The table below shows a list of MP3 and WMA files with a variety of compression settings and the behavior of the device.
Compression Type
Compression Settings
Recognize/Play
MP3
CBR 20kBit 11025Hz Mono
No
CBR 20kBit 11025Hz Stereo
CBR 32kBit 11025Hz Stereo
CBR 32kBit 22050Hz Mono
CBR 40kBit 22050Hz Stereo
CBR 48kBit 22050Hz Stereo
CBR 48kBit 44100Hz Mono
Yes
CBR 56kBit 22050Hz Mono
No
CBR 56kBit 44100Hz Mono
Yes
CBR 64kBit 22050Hz Stereo
No
CBR 96kBit 44100Hz Mono
Yes
CBR 96kBit 44100Hz Stereo
CBR 112kBit 44100Hz Stereo
CBR 128kBit 44100Hz Mono
CBR 128kBit 44100Hz Stereo
CBR 160kBit 44100Hz Stereo
CBR 192kBit 44100Hz Stereo
CBR 224kBit 44100Hz Stereo
CBR 256kBit 44100Hz Stereo
CBR 320kBit 44100Hz Stereo
VBR - High compression
VBR - Highest compression
VBR - Low compression
VBR - Lowest compression
VBR - Medium compression
WMA
CBR 48kbps
Yes
CBR 64kbps
CBR 96kbps
CBR 128kbps
CBR 160kbps
CBR 192kbps
VBR any bitrate
No
WAV
WAV
Not supported
OGG Vorbis
OGG Vorbis
Not supported
One feature that we think could be useful and is missing from the DVR-320-S is the ability to playback compressed audio files from a DVD-R/DVD-RW. We tried burning DVD-R and DVD-RW discs with MP3/WMA audio in them, but the DVR-320-S didn't recognize and ejected the disc after 10-15 seconds of being inserted in the device.
Also, the DVR-320-S is capable of recognizing mixed discs, i.e discs that contain both compressed audio and/or image files. Of course, it only supports CD/CDR. One small annoyance we found is that if in a mixed disc we play back any of the mp3/wma files, then the Photoviewer menu option becomes unavailable. The only way to remedy this is to eject and reinsert the disc in the unit.