1. Features
Patriot Memory, a well known storage specialist has recently released the "Torqx" series of Solid State Drives (SSD). Having already tested the company's ' Warp v2' series of SSD, which left us with some questions related to their stability and performance, we are curious to run some benchmarks with this new product. Patriot Memory promises higher reading/writing speeds with no shuttering at all. But first, let's see some of the features of the new Torqx series of drives.
The Patriot Torqx Solid State (SSD) drives use high-quality NAND flash chips and a new and fast controller promising speed, quiet and reliable operation. Torqx SSD is also designed with built in DRAM cache which allows faster real-time transfers .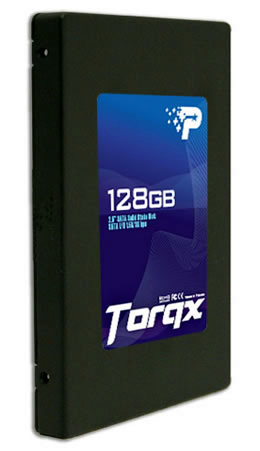 Compared to conventional disk drives, built with 100% moving-free parts and housed in a vibration and shock resistance housing, the Torqx SSDs provide a solid operating environment even during the most extreme working conditions. Built to sustain heavy usage, the Torqx SSDs have built-in wear leveling technology in addition to the standard 2 year warranty to maximize the life span of the drive and preserve the data integrity by automatically marking and blocking bad data cells.
- Features
Available in 64GB, 128GB and 256GB capacities
Interface: SATA I/II
Raid Support: 0, 1, 0+1
256GB and 128GB:
Sequential Read: up to 260MB/s
Sequential Write: up to 180MB/s
64GB:
Sequential Read: up to 220MB/s
Sequential Write: up to 135MB/s
64MB DRAM Cache
3.5" bracket included
Shock Resistant: 1500G/0.5ms
Vibration Resistant: 20G/10~2000Hz with 3 Axis
Operating Temperature: 0ºC~70ºC
Storage Temperature: -40ºC~ 85ºC
MTBF: >2,500,000 Hours
Data Retention: 5 years at 25ºC
Data Reliability: Built in BCH 8, 12 and 16-bit ECC
O/S Support: Windows XP and Vista Linux, and Mac OS X
Dimensions: 99.88 x 69.63x 9.3 mm
Weight: 91g
2 Year Warranty