OCZ Trion 150 480GB SSD review
3. HDTachRW, ATTO Disk Benchmark
Here is our testbed:
Shuttle SH81R4
Processor: Intel i7 4790Graphics card: Club3D Radeon HD 6790 CoolStream EditionMemory: 2x8GB RAM DDR3-1600 CrucialSSD: 512GB Crucial MX100Monitor: LG L246WH-BH 24"
Windows 7 x64 SP1 with latest updates installed
We start the tests with the HDTachRW software. The software measures the sequential read speed, the random access speed and sequential write speed. The software feeds the tested drive a continuous string of small sequential requests. It doesn't equate to real-world maximum throughput, but it does mean something for analysis.
The drive's reading speed was consistent throughout its capacity and the average read speed was at 445.6MB/s. The software's small sequential requests in the write part resulted to an average speed of 300MB/s.
In the beginning of the test, the write speed was higher than 350 MB/s, as the SLC buffer used on the Trion 150 still filling up. A bit late the sustained period of writes exceeded the SLC buffer size and writing in the TLC portion of the drive was slower but steady, at about 300 MB/s. Unfortunately we do not have tested the Trion 100 SSD in order to make a comparison with the latest drive in this test.
The next software we used was the ATTO Disk Benchmark. The tool measures storage systems performance with various transfer sizes and test lengths for reads and writes. The benchmark performs file transfers ranging from 0.5 KB to 8192 KB. ATTO can be adjusted to do overlapped I/O, in a variety of queue depths. The test was run with the default runs of 0.5KB through 64MB transfer sizes with the total length being 256MB and QD4. ATTO probably gives the most accurate results for compressible read and write data.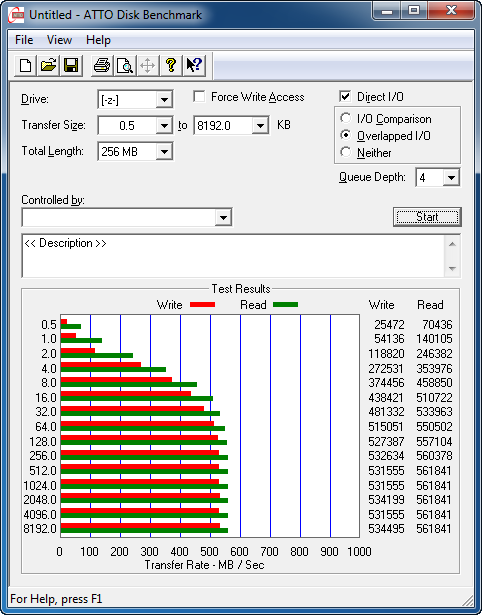 ATTO showed the OCZ Trion 150 480GB SSD maxing out at 562 MB/s read and 5345 MB/s write in the standard overlapped I/O benchmark.
Let's plot these results to make some comparisons with other SSDs.
The Trion 150 480GB SSD was surprisingly fast in the 4KB read test (353.9 MB/s) leaving behind the Samsung 850Pro 256GB, although the latter had a smaller overall capacity.
Reading of larger 2MB files was also fast at 561.8 MB/s. As you see below, many SSDs are competing in the 550 MB/s - 560 MB/s range, and their actual performance differences are obviously of no importance.
Writing of small 4K files was slower at about 272.5 MB/s, but the drive favored the larger 2MB files and returned a high write speed of 524.2 MB/s.