OCZ Trion 150 480GB SSD review
2. Unboxing
The design of the TRION 150 as well as the packaging has changed since the 100. OCZ has gone with a sleek blue design for the package, with the SSD's name and capacity, while the backside lists the product specifications.


There isn't much inside besides the SSD and an installation and warranty literature.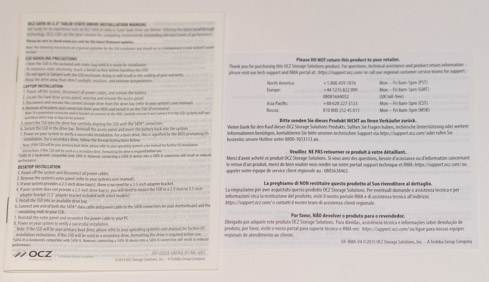 The new OCZ Trion 150 features an anodized aluminum housing, just like the previous-generation Trion. Of course, it size
conforms to the standard 2.5" form factor common to today's SATA-based SSDs, and it has aslim 7mm Z-Height.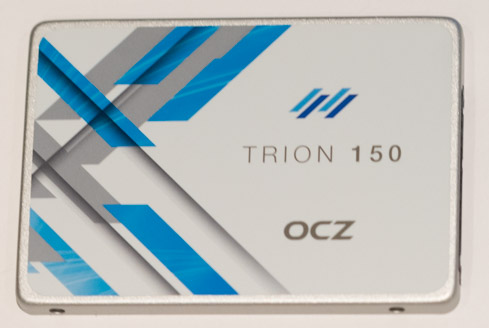 The controller supportd Toshiba's QSBC technology (Quadruple Swing-By Correction, which is a Toshiba proprietary error correction technology) and the drive can use a bit of NAND as an SLC cache to boost short-term write performance and increase endurance. The Trion 150 also support DEVSLP to save power when idle, though the drives do not support hardware encryption.
Flipping the drive over you'll find the actual product label of the Trion 150 that has the full part number, capacity, original firmware version, serial number and more typical stuff.
The Trion 150 has about 6.25% of their NAND capacity over-provisioned, though this can be tweaked in the OCZ Guru utility that's available as a free download from the company's website. That additional capacity is reserved for wear-leveling and other proprietary features.
The cache (TLC treated as SLC by writing only a single bit) equals approximately 1.5 percent of the total storage regardless of capacity. That means about we have about 7.2GB of cache, in the 480GB model we are testing. This kind of cache means that you 'll hit the slower 3-bit writes to TLC during sustained transfers much sooner with the lower-capacity models.
OCZ's SSD Guru is a cool utility that is free to download and it allows you to secure erase your drive, check its health, update the firmware and more. Below you see some screenshots of teh software with the Trio 150 480GB SSD installed in our test system.