OCZ PC4000 XTC Platinum Edition 2X1GB
8. Conclusion

Most manufacturers have already released 2GB memory packs, but there are not many that can offer 3-3-3-8 timings at this capacity. The OCZ PC4000 XTC Platinum Edition memory modules are among the few that can. OCZ Technology has always maintained high standards in quality and performance, and we did not expect anything less from these new platinum modules.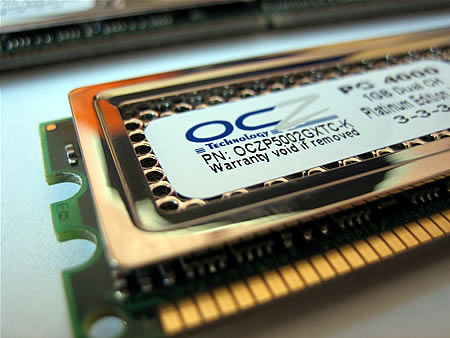 The performance of the PC4000 XTC was one of the best we have seen for a 2GB set. Unfortunately, with our ASUS motherboard, the default frequency was set to 400MHz, but you can always raise it to 500MHz with some manual BIOS tinkering. To change to 500MHz, you do not have to sacrifice timings or provide higher voltage to the memory banks. In almost every test, the OCZ PC4000 reported the best performance in our comparison charts.
The OCZ PC4000 XTC Platinum modules are excellent overclockers as well. We got 580MHz without a sweat, but we had to pump up the voltage to make the system stable. If you are an overclocking maniac, these are definitely worth checking out.
The OCZ PC4000 XTC Platinum Edition 2GB memory is priced at US$239.99 at newegg.com.
The Good:
- Excellent performance at 500MHz.
- Cool operation
- Excellent overclocking potential
- Very good timings
The Bad:
- Voltage hungry when it comes to overclocking