7. Conclusion
- Conclusion
The OCZ PC2-9200 comes with the FlexXLC technology, which is at least unique for a memory product in today's market. The FlexXLC (Xtreme Liquid Convection) heatsink offers better heat dissipation via a hybrid copper and aluminum design, allowing for a choice between passive air or water cooling. Since no other product on the market offers this kind of cooling method, there's probably good market potential for such a product and OCZ.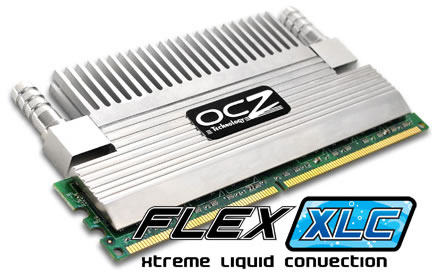 According to our tests, the memory reached 625.00MHz with voltage up to 2.5V! That's 50MHz higher than what OCZ advertises for the product. This is clearly the highest memory speed we have seen in our labs. With lower speeds you can even have 1T at 400MHz while the DDR2 1000MHz (2.1~2.2V) seems the best initially for overclocking CPU. Of course, this applies only with Nvidia 680i chipsets. So, before buying this memory kit, be sure to check your motherboard memory voltages, although most currently sold boards can support up to 2.4V without any problem. There have been some reports that this memory can handle even higher voltages and reach 650MHz, but we couldn't confirm this, since our motherboard had a memory voltage ceiling of 2.50V.
Ending our presentation, we were very satisfied with the OCZ PC2-9200 FlexXLC memory series. The product does work as advertised and with the proper motherboard/memory voltage, can boost an additional 50Mhz for your overclocking needs. The retail price is considered "low" for this type of unique product. You can buy 2x1GB of OCZ PC2-9200 for around US320$ or €310.
What else can you ask from OCZ? Top performance, neat design, high overclocking capabilities and of course, the right price...