2. Retail package
- Retail package
OCZ provided us with the retail package of their FlexXLC with 2 GB (2x1GB), costing around US$320 (+shipping) as found at several online stores. The kit comes in the standard packaging for OCZ memory products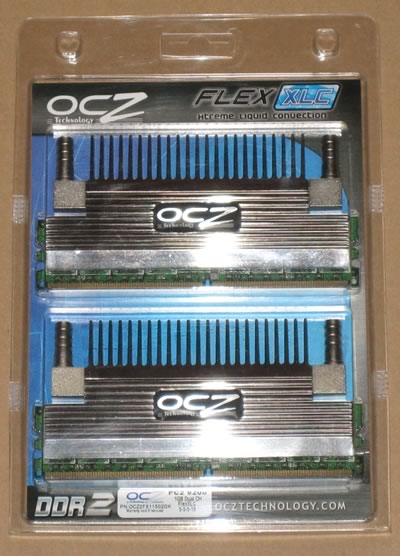 It's nearly impossible to open the retail package unless you break the "security" seal. This way, you know you are buying a brand new retail product
After opening the retail package, we can better examine the modules. On the front is the OCZ Technology logo.
While on the back, the memory product number and suggested memory timings.
The two 1/4" ID (inner diameter) barbs can be used either for water or air cooling, so you can say that the modules are certified as "Water Cooling Ready":
The slim design of the heatsink/fins means there's no problem using four modules side by side for maximum memory capacity.
Removing the heatsink reveals Micron D memory chips mounted on an 8-layer PCB. OCZ claims that this design allows for higher overclocking capabilities. We will find out how much, later on in our review.