2. The Retail Package
OCZ, for our testing purposes sent us the retail package of the ModXStream 780W Power Supply with part number (OCZ780MXS). Its retail price is €169. The retail package is simple, and includes the PSU itself, a power cord, cables and a printed manual.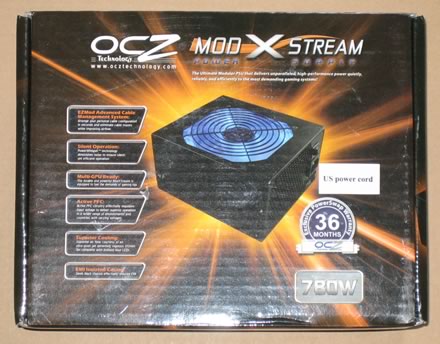 The PSU is standard size (150 x 140 x 86mm) certified for ATX v2.2. The PSU has a 120mm semi-translucent cooling fan which lights up blue when operating. Case modders will love the bright blue color for their designs :-).
The external black coating has a good looking finish and adds points to the overall look and design. The rear of the OCZ PSU has the perforated honeycomb design, which helps keep the PSU cool, as well as drawing air through its 120mm from the case and blowing it out the back.
At the side we find a label with all the PSU specs and ratings: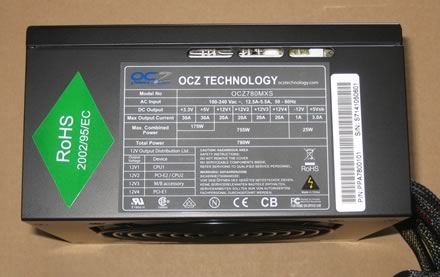 The ModXStream has a total of four +12V rails. Each +12Vv rail supports 20A with a total of 80A at 720 watts. Each of the +3.3V and 5V rails support up to 30A each for a total of 175 watts. That is a peak total of 895 watts. So we can say that most SLI and Crossfire users are covered.
The ModXStream series include modular cables, but unfortunately there are no labels on the black braided leads to indicate which cable goes where exactly.
Only the cables supplying power to the motherboard are pre-attached. We didn't like the fact that 20+4 cables do not "clip" together, so when installing and removing you have take care:
There are numerous cables included to cover all your needs.