Nvidia Geforce GTX 1070 review
3. Witcher 3: The Wild Hunt, Final Fantasy XIV
The FPS results in the Witcher 3: The Wild Hunt benchmark followed the trend we saw in the previous tests. In order to play the game using the GTX 1070 at more than 60 FPS and with Ultra Quality settings enabled, , you should choose the resolution of 1,920 x 1,080 pixels. The card will deliver about 30 FPS at 4K and Ultra quality configuration.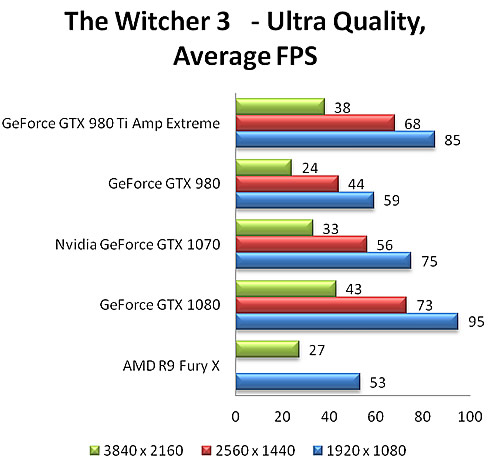 We are moving on to the more demanding Final Fantasy XIV. Again, the GTX 1070 ranks third behind the GTX 1080 and the GeForce GTX 980 Ti AMP Extreme.
The MHF benchmark showed almost the same trend, with the GeForce GTX 1080 to outperform the other GPUs. The rankings in the MHF benchmark remained unchanged, with the GeForce GTX 1070 to be the third fastest card in the test. Notice that the performance lead over the AMD R9 Fury X and the GeForce GTX 980 has been increased at 4K.