Nvidia Geforce GTX 1070 review
1. Meet the Nvidia GeForce GTX 1070
The Nvidia GeForce GTX 1070 will be officially released June 10, and we had the chance to run some benchmarks on Nvidia's latest Pascal-powered graphics card.
Nvidia's GeForce GTX 1080 graphics card proved to be a new champion for desktop gaming, providing a significant bump in graphics power compared to the GTX 980, GTX 980 Ti and GTX Titan X. But for many PC gamers unwilling to spend $600 to $700 on a new graphics card, Nvidia is offering the new GTX 1070 solution, which will be priced at $379 to $449 when it hits the market.
The GeForce GTX 1070's power stems from the same source as the GTX 1080's: Nvidia's Pascal GPU. Pascal - and forthcoming Radeon cards based on AMD's Polaris GPUs are leaping forward two full process generations, shrinking down to 16nm transistors and integrating 3D "FinFET" technology as well. As we saw in our GTX 1080 preview, Pascal GPUs represent a huge step forward in performance and power efficiency.
The GTX 1070 features the same "GP104" Pascal GPU as the bigger brother, but with five of its 20 Streaming Multiprocessor units disabled. That leaves it with 1,920 CUDA cores and 120 texture processing units, but Nvidia left the GPU's full complement of 64 render output units (ROPs) intact. The GTX 1070's clock speeds have also been decreased down to a 1,506MHz base clock and 1,683MHz boost clock, but that's still superior to the previous-generation GTX 980, which topped out at 1,216MHz boost clocks, while AMD's Radeon R9 390X topped out at 1,050MHz.
Another key difference from the GTX 1080 is the GTX 1070's memory. While the GTX 1080 adopted the brand new GDDR5X memory clocked at 10Gbps, the GTX 1070 employs 8GB of traditional GDDR5 RAM over a 256-bit bus instead, clocked at 8Gbps for an effective memory bandwidth of 256GBps.
GeForce GTX 1080

GeForce GTX 1070

GeForce GTX 980

ZOTAC GeForce GTX 980 Ti AMP! Extreme

Architecture

Pascal (GP104)

Pascal (GP104)

Maxwell (GM204)

Maxwell (GM200)

Manufacturing process

28nm

GPU clock (maximum)
Cuda cores
Texture units

160

120

128

176

Memory

4GB GDDR5

6GB GDDR5

Memory Clock
Memory Interface

256bit

256bit

256bit

384bit

ROP units

64

64

64

96

Board Power

150W

165W

250W
Nvidia's Founders Edition of the 1070 looks identical to the 1080 and features the same smaller, less noisy design built around a cooling system that makes use of a radial fan and advanced vapor chamber. The fan exhausts the heat outside the chassis via an aluminum heatsink, three copper heat pipes and a metal baseplate, making for lower system temperatures. And the 1070 does all of this while drawing just 150 watts.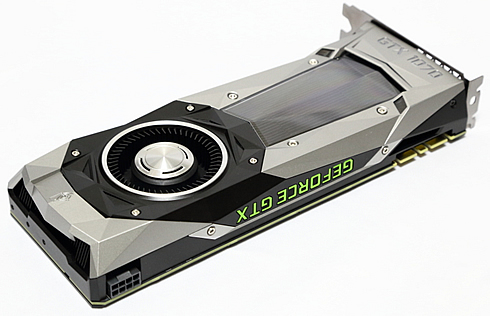 You'll also find the same single HDMI 2.0b connection, a single dual-link DVI-D connector, and three full-sized DisplayPorts that are DP 1.2 certified, but ready for DP 1.3 and 1.4. The card will be able to power 4K monitors running at 120Hz, 5K displays at 60Hz, and even 8K displays at 60Hz.
Of course, the 1070 will support both overclocking and SLI configurations. As has been the case for the GTX 1080, Nvidia doesn't recommend putting more than two cards in a system, but the company still supports it through an app that can be downloaded on the Nvidia website. And Pascal has a dual-link SLI mode that has both SLI interfaces being used in tandem either to feed one high-resolution screen or multiple displays.
Overclocking on the 1070 will be powered by Nvidia's latest take on GPU Boost.
GPU Boost 3.0 adds the ability to set frequency offsets for individual voltage points, making it much more efficient at boosting power. The new GPU Boost is also designed to accommodate GPU overclocking scanners.
We tested the Nvidia Geforce GTX 1070 Founders Edition using the following PC setup:
CPU
Core i7-6700K
Motherboard
ASUS Z170-A
Memory
DDR4-2133 8GB × 2 (15-15-15-35,1.20V)
Storage
256GB SSD
Graphics driver

GeForce 368.13 Driver

/ GeForce 358.91 Driver
OS
Windows 10 Pro 64bit