Numark DJ2Go Controller review
1. Features
Besides the passion for music required in order to become a DJ, most teenagers cannot afford buying the DJ equipment in order to practice their skills. As a result, software solutions that essentially offer almost all the basic functions of the real CD decks and mixers have become very popular, offering DJ wannabe's a great tool to express their themselves without leaving their room and their PC or laptop screen.
This all-digital set up has many advantages over the hardware DJ equipment; it's cheaper, it is as bulky as a laptop meaning it can easily travel with you into your bag; and also it makes DJing easier to novice users. On the other hand, using your mouse or keyboard to switch all this knobs on the software's digital interface cannot be matched with the feel of playing with real hardware mixers and CD decks.
So here come the DJ controllers - hardware devices that actually look like real DJ equipment and allows you to control your DJ software by using real knobs and buttons. The DJ controllers are typically featuring real buttons, knobs, jogs and almost everything you will see on pro DJ equipment.
Numark is a famous manufacturer of DJ accessories and audio equipment, with many years of experience in DJ related products. Earlier this year, Numark introduced a "DJ micro-controller", the DJ2GO: a portable, affordable and capable DJ controller that allows DJs to control their favorite DJ software.
The device weighs just 13 oz. but provides a layout familiar to DJs that includes two platters, a crossfader, pitch and level controls as well as Deck A, Deck B, Master and Headphone gain controls - just the essentials for you to start DJing.
Most importantly, you can load and assign tracks to the two included deck control sections displayed on your notebook's screen without ever touching a mouse. Sync and headphone buttons are also provided allow you to instantly sync two tracks and monitor either deck section.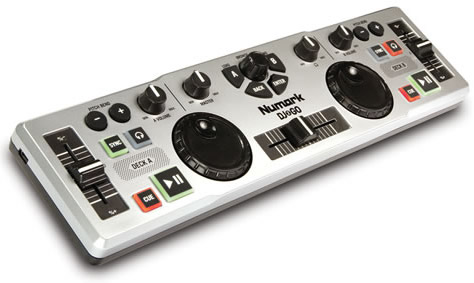 Included with DJ2GO is a special edition of Virtual DJ LE Lite software, designed to mate perfectly with the capabilities of the controller, so DJs can pick up DJ2GO and literally start performing on the spot. Because DJ2GO is MIDI-compliant, it can be used easily with virtually any DJ software by simply re-mapping the controls in the applicable application. DJs need only to connect the included USB cable to their Mac or PC and install the software to be up and running.
- Key Features
Ultra-portable USB DJ software control for instant gigs
Compatible with virtually any MIDI-capable DJ application
Mouseless navigation built in
Single USB cable provides easy integration with your PC or Mac
Familiar A/B deck and crossfader make using DJ2GO a snap
Includes integrated Virtual DJ LE Lite Software