Numark DJ2Go Controller review
3. Powering On
Before you begin using DJ2GO with your computer, you must install the included VirtualDJ 7.0.3. LE edition software. After installation, connect the DJ2GO to an available USB port on your computer. (If possible, use a USB port on the rear panel of your computer.)

The VirtualDJ 7.0.3. LE edition software comes with a skinned version especially designed for use with the DJ2GO. Within the software you may also change the default mapping of the buttons and knobs: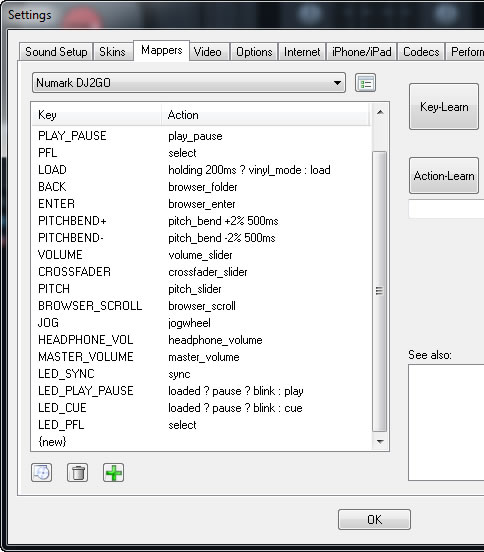 Users with a DJ experience will have no problem getting familiar with the controller. The Play and Sync button have a green backlight, and the cue/PFL buttons are red, which is common design in professional equipment.
The crossfader is just 5cm long and freely slides from side to side, allowing for quick cuts and accurate mixing, as well as easier scratching - although the jog wheels have not been designed for scratching. Speaking of quick cuts using the crossfader, you should be careful with your hands as the wheel jogs are positioned very close so you might accidentally touch them while playing music.
As we previously mentioned, the plastic wheel jogs do not rotate freely, meaning that they will soon stop after giving them a quick spin. Once you touch them music will stop, but not completely - just for 1sec. So these jogs are not as sensitive as you may expected but still, it would be unfair to compare this low-priced controller with pro DJ mixers.
We should also mention here that spinning the wheel jogs can be done under the Vinyl (scratch) or CD mode, depending on your DJing style.
The Load button works great and will not let you down, allowing you to pick the next track quickly and easily. However, they are very small in size so unless your fingers are slim, using a mouse and keyboard would be a better idea, especially during live performances.
We missed the EQ's found in DJ equipment - all these knobs that add special effects and your personal style to your music. You can always create your own equalizer presets through the Virtual DJ software and map some buttons on the controller in order to apply them during DJing.
Remember that device is MIDI controller only, meaning that you will have to use either your laptop's internal sound card or an external audio device in order to operate.
The Numark DJ2GO is a small DJ controller designed to meet specific DJing needs .Bedroom DJs will find it great as it will give them the feeling of having a better control over their music rather than using their mouse and keyboard. In addition, the controller could be a great tool even in the hands of more experienced DJs since it would fit into their laptop bag and easily carried to an in-house party. And of course, you can also carry it with you as an extra/backup controller.
The build quality of the plastic buttons and the limited free space between knobs and buttons should not be serious issues for all those who are just starting experimenting with DJing. Available for just $59, we are not sure you could expect more from a very basic DJ controller. For those who want to figure out for themselves what the essence of simple, stripped-down DJing is without any additional expense or without any of the bells and whistles, the DJ2GO is ideal.
If you're a wannabe DJ who wants the cheapest, most portable, simplest DJ controller set-up on the market, then get this and prepare to impress your friends on your own dance floor.