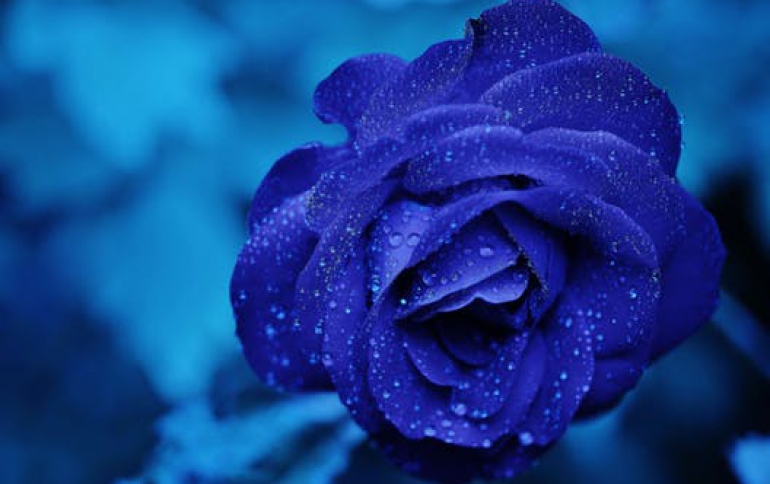 New Extra-Rugged Primera Bravo Disc Publisher
Primera's popular Bravo II Disc Publisher now comes with a 11-gauge steel front bezel, 18-gauge steel cabinet, new metal components and locking front cover to provide heavy-duty disc publishing for "mission critical" applications. The new Bravo XR automates the process of recording and direct-to-disc printing of up to 50 CDs or DVDs at a time. A robotic arm transports the discs to the drive for burning and then into the integrated 4800 dpi color printer.
Bravo XR's convenient form factor also allows all supplies and the finished discs are accessible entirely from the front of the unit. This allows Bravo XR to be placed on shelves, on or under counters or even mounted in a standard 19" 4U rack opening with an optional rack mount kit. It has a steel case and frame and a lockable front panel for use in environments in which security is advantageous. Just a few of these applications include data archival and backup, medical imaging, digital photo minilabs, retail music and video download, kiosks and much more.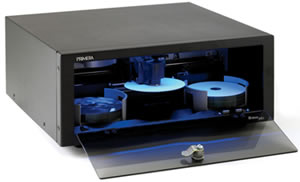 Bravo XR incorporates toughened mechanical components as well as an 11-gauge, all-steel front bezel and a black painted 18-gauge steel case. Integrated blue LED lighting clusters and a clear front panel makes it easy to view the disc burning and printing process.
The DVD/CD recordable drive utilized in the Bravo XR is from Plextor, and delivers recordings at optimum speeds using CD-R, DVD-R, DVD+R and DVD R Dual-Layer media.
To double capacity and offer redundancy, two Bravo XR systems can be stacked on top of each other and operated from a single PC.
An optional rack mount kit is also available. Rack mounted systems save space in television controls rooms, video production studios, IT/MIS environments and audio production studios.
In addition, an optional Kiosk Kit allows users to dispense discs out of the front in jobs of up to 50 discs at a time. Or, for disc publishing applications in which the data on every disc is unique, discs can be dispensed one at a time out the front of the unit without having to open the lockable front door.
For Windows users, Bravo XR includes PrimoDVD burning software from Sonic, which has a range of professional authoring and mastering tools for both CD and DVD burn and print jobs. Labeling software called SureThing CD Labeler Primera Edition is also included for graphic design. Or, users can design disc graphics i
n Adobe Photoshop, Adobe Illustrator and CorelDRAW among others.
CharisMac's Discribe Software for the Mac is also included.
The Bravo XR Disc Publisher is priced at US$2995 MSRP. The Rack Mount Kit is US$99.95 and the Kiosk Adapter Kit is US$59.95.
For control from other software applications, programmers can integrate Bravo XR by utilizing Primera's PTBurn DevSuite. This API for Windows XP/2000 provides full control of Bravo XR's burning, printing and robotic functions. PTBurn DevSuite is available at no extra cost to registered developers.
The Bravo XR Disc Publisher is available immediately from Primera's Authorized Resellers and Distributors in more than 80 countries.