9. Writing Quality Tests - 3T Jitter Tests
NEC ND-6500A - Page 9
Writing Quality Tests - 3T Jitter Tests
On this page we present the 3T Pit & Land Jitter graphs when using various media burned at 16X and 24X writing speeds.
- 3T Pit results
Most media performed very well with the ND-6500A, reporting 3T Pit Jitter values lower than the Red Book limit (35nsec). However, some media reported higher 3T Pit Jitter values, such as Traxdata media that gave a maximum value of 40nsec. Generally, the ND-6500A showed very good performance with these media.
- 3T Land results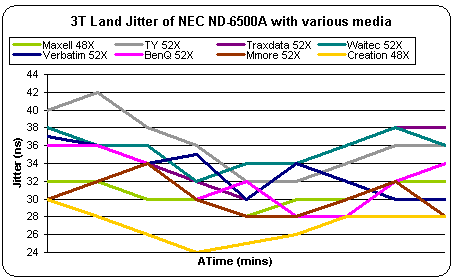 Again, average Land Jitter values were lower than the Red Book limit, but with certain media, Land values reached a maximum of 42nsec. However, this was an exception, and the drive performed very well with almost all media tested.
It should be noted though, that the drive can only burn at 24X maximum writing speed, so such good performance was expected since, the lower the writing speed, the better the quality results.