1. Introduction
It was back in 1971 when Memorex made its first steps in the consumer market, producing high quality recording tapes. Throughout the last 40 years or so since its creation, Memorex has offered a wide variety of storage solutions including recordable media, both CD and DVD, flash media, mini discs, diskettes, storage devices such as CD/DVD Recorders, memory sticks, even media cases and labels, and the list keeps getting longer.
In this review, we will have a closer look at Memorex's latest product, the Mega TravelDrive, a USB 2.0 flash memory with 6GB and 8GB capacity.
Memorex's award winning line of portable storage drives expands further with our Mega TravelDrive line of mini hard drive based USB drives. Nearly 20% smaller than existing hard drive based solutions offered by competitors, the Mega TravelDrive truly delivers the best combination of size and capacity.
While the Mega TravelDrive is compact on the outside, it offers an expansive storage space inside. Adding to the drive's visual appeal is the wrap-around blue LED indicator lamp, bringing an extra touch of coolness to this attractive, portable storage device.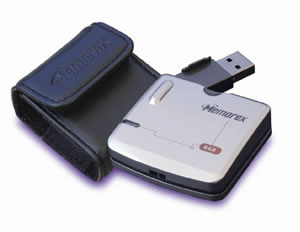 The Mega TravelDrive with 4, 6 and 8GB capacity
Features
- HIGH SPEED USB 2.0 compliance for the fastest data transfer speeds-up to 10 times faster than USB 1.1.
- Blue LED Power & Activity Indicator - high-tech look providing information for extra safety in transferring files.
- Backward compatibility for use with computers installed with USB 1.1 ports.
- No specific hardware requirements for use on most computer systems. Uses standard USB ports available on most computers today.
- Plug-n-Play - No installation software or drivers required. Just plug it into your USB port and go. (Applies to Windows Me, 2000 & XP along with Mac OS X or later)
- Windows 98SE Compatible - Windows 98SE requires installing a device driver available for download from the Memorex web site.
- Works between both PC and Macintosh platforms. Allows convenient swapping of files from either system platform (using the FAT32 file format).
- No batteries or power adapters required. Uses power from the USB port and also works with USB hubs.
Compatibility/Capacity
- Windows 98SE/2000/ME & XP
- Mac OS 9.x or higher
- USB 2.0 or 1.1 compatible
- 6GB of storage capacity
Package Contains
- Mega TravelDrive
- Quick start guide
- Carrying case
- USB extension cable
To connect the Mega TravelDrive to the PC, just pull out the USB connector as indicated below: