1. Introduction
XFX is one of nVidia's favourite manufacturers. It holds one of the top sales position world-wide, keeping prices considerably low and making nVidia even happier. For a long time, we expected to see a low-end VGA card from the GeForce7 series … but instead, out comes the 6800GS.
Although it sounds a little strange that nVidia still supports the GeForce6 series, it is indeed a very smart marketing move. It covers the needs of middle of the range users, those who like to play all the games but not necessarily at the highest quality, or those who just don't have that much money to spend on a 7800GT card.
The 6800GS comes to replace the good old 6800GT. Although the performance of the new GS model must be more or less the same, there are some major differences between these two cards.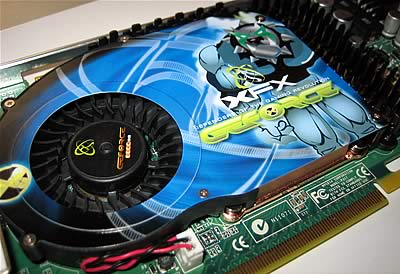 In this review we will be testing the XFX 6800GS XXX Edition VGA card. This is the highest stock overclocked 6800GS card you can find on the market. There are AGP and PCI-E editions of this card. We received the PCI-E edition.
- Packaging/Bundle
In the retail box, you will find the usual stuff. A quick installation guide, a user's guide, FarCry, and the drivers disc. As with many other XFX cards, the retail box is "X" shaped, and everything is very well organized inside, making you wonder how all this stuff could fit in that box!
You will also find DVI to VGA adapters, a power adapter cord and a TV-out cable.
On the rear of the box, you will find the serial number and the card's fan cover.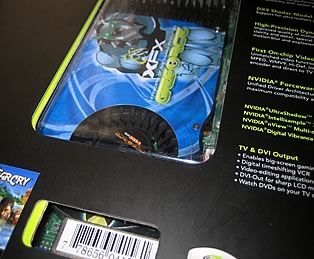 You will also find "The Flames of Deception - Episode 02". And if you are wondering what this is, all you have to do is go to a store and read the story on the back of the box :-)