9. C1 / C2 Error Measurements
We measured the C1 / C2 error rate on the recorded discs we burned at the maximum supported writing speed of 48X. The software we used is PleXTools Professional v2.16, and more specifically the built-in Q-Check utility. The reader was the Plextor PX-712A (firmware v1.05).
MMore 80min 52X CD-R @ 48X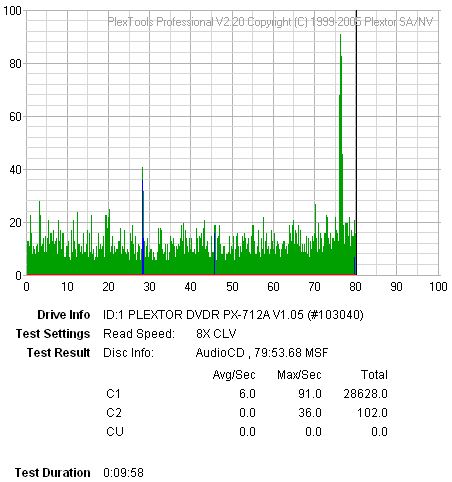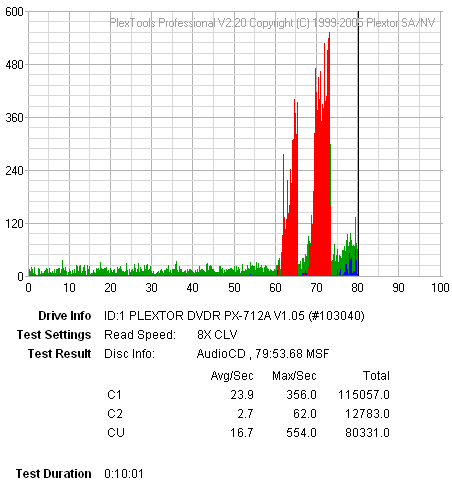 - Summary
CD writing quality according to Plextools is very much dependent on the inserted media. In almost all cases, there were C2 errors while in the case of Traxdata media, there were also CU errors. Only with Verbatim media did it manage a good burn. We expect a newer firmware release will improve this.
- Appendix
| | | | |
| --- | --- | --- | --- |
| Media Label | ID Code | Manufacturer Name | Lead Out TIme |
| Intenso 80min 52X | 97m32s19f | Prodisc | 79:59:71 |
| MMore 80min 48X | 97m17s 6f | Moser Baer India, Ltd. | 79:59.74 |
| Traxdata 80min 52X | 97m15s17f | Ritek Co. | 79:59:70 |
| Philips 80min 48X | 97m15s17f | Ritek Co. | 79:59:70 |
| Verbatim 80min 52X | 97m34s23f | Mitsubishi Chemical Corporation | 79:59:73 |