6. C1 / C2 Error Measurements
We measured the C1 / C2 error rate on the recorded discs we burned at the maximum supported writing speed of 48X. The software we used is PleXTools Professional v2.23, and more specifically the built-in Q-Check utility. The reader was the Plextor PX-712A (firmware v1.05).
BenQ 80min 52X @ 48X
Intenso 80min 52X @ 48X
Verbatim 80min 52X @ 48X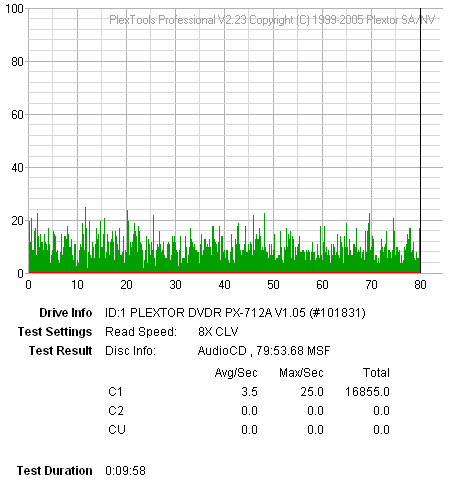 .
Ridisc 80min 52X @ 48X
Traxdata 80min 52X @ 48X
Good writing performance with the three out of five CDR media while the best burn was with BenQ media.
| | | | |
| --- | --- | --- | --- |
| Media Label | ID Code | Manufacturer Name | Lead Out TIme |
| BenQ 80min 52X | 97m22s67f | Daxon Technology | 79:59.74 |
| Intenso 80min 52X | 97m32s19f | Prodisc | 79:59:71 |
| Verbatim 80min 52X | 97m34s23f | Verbatim | 79:59.73 |
| Ridisc 80min 52X | 97m15s17f | Ritek Co. | 79:59:70 |
| Traxdata 80min 52X | 97m15s17f | Ritek Co. | 79:59:70 |