17. BookType Setting
The LiteON SOHW-1653SX supports the BookType Setting for the DVD+R/RW formats, as is to be expected, since all LiteON DVD burners support this feature. Users should change to the preferred booktype setting prior to burning +R, +RW or +R9 media.
It has been noticed that some LiteOn drives will not work with KProbe and other well known software that support BookType Setting. So, in this case too, KProbe failed to comply with the BookType change system of the drive, even though the drive supports this.
We next went for the DVDInfo Pro utility which along with many others, supports this feature and again we got a message as shown below.
Finally, we used the LiteOn Bit Setting Utility v1.3.5 and the drive complied, resulting in a successful Booktype change, as is shown in the following screenshots.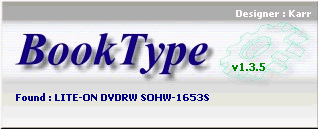 We used blank DVD+RW media...
And successfully changed the Booktype to DVD-ROM