Intel Pentium 4 660 3.6Ghz
1. Introduction
Intel is one of the largest, if not the largest, CPU manufacturer worldwide. Today, Intel supplies the computing and communications industries with chips, boards, systems and software building blocks that are the "ingredients" of computers systems, servers, networking and communications products.
Intel's new 6xx series of processors, is the answer to the competition, the very popular 64bit processor from AMD. The 6xx series has many similarities with the Prescott and 5xx series, such as 800 MHz FSB and 31-stage pipelines but it has some extra features such as:
EM64T : Intel Extended Memory 64 Technology (Intel EM64T) is an enhancement to Intel's IA-32 architecture. The enhancement allows the processor to run newly written 64-bit code and access larger amounts of memory.
2MB L2 Cache : A larger cache size can help the processor more efficiently run many popular applications in digital imaging, music, video and gaming.
Enhanced SpeedStep : Enables cooler and quieter PC designs (depending on system implementation and usage).
Execute Disable Bit : Can improve protection against malicious "buffer overflow" attacks when properly enabled with a supporting operating system.
Processor Features & Definitions

Architecture

Basic design of a microprocessor. May include process technology and/or other architectural enhancements.

Cache
(MB/KB)

A temporary storage area for frequently accessed or recently accessed data. Having certain data stored in a cache speeds up the operation of the computer. Cache size is measured in megabytes (MB) or kilobytes (KB).

Clock Speed
(GHz/MHz)

Speed of the processor's internal clock, which dictates how fast the processor can process data. Clock speed is usually measured in GHz (gigahertz, or billions of pulses per second).

Front Side Bus
(GHz/MHz)

The connecting path between the processor and other key components such as the memory controller hub. FSB speed is measured in GHz or MHz.
The full Pentium 4 6xx series is given below:
| | | | | |
| --- | --- | --- | --- | --- |
| Model | Clock Speed | L2 Cache | Socket | FSB |
| Pentium 4 660 | 3.6GHz | 2MB | LGA-775 | 800MHz |
| Pentium 4 650 | 3.4GHz | 2MB | LGA-775 | 800MHz |
| Pentium 4 640 | 3.2GHz | 2MB | LGA-775 | 800MHz |
| Pentium 4 630 | 3.0GHz | 2MB | LGA-775 | 800MHz |
The sample we received from Intel was for evaluation purposes only and not a production processor. That's why "CONFIDENTIAL" is stamped on the faceplate.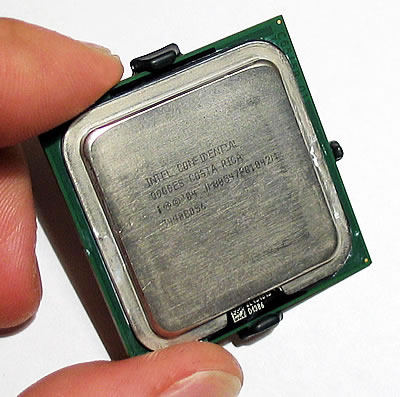 The CPU is a 775 socket, as was the Prescott series. As you can see, there are no pins on the CPU chip itself. Instead, they are located on the motherboard socket.
Below you can see the core of the Intel P4 660.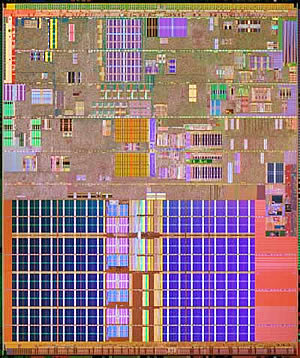 The stock cooler included in the BOX version for the 6xx series, has nine smaller blades instead of the seven larger ones, found on the 5xx series. As the heat increases, so does the rotation speed of the fan making it a little noisy.