1. Introduction
Today we will be reviewing an external DVD Burner from LiteOn. The SLW 831SX is a slim external drive, mainly targeted at notebook users, who need to make backups or burn the occasional CD or DVD, and don't care about the low speeds that such a solution offers. The 831SX offers 8X for both DVD+R and DVD-R formats, while it also supports DL writing, even though this is done at the lowest available writing speed of 2.4X. RW formats are also supported at the 4X burning speed. As far as the CD media is concerned, the drive offers 24X burning speed for both CD-R and CD-RW media.
Throughout these pages, we will see how the drive performed with a variety of media, in order to check the drive's Reading, Writing, Error Correction and Ripping capabilities.
- Features
SMART-BURN avoiding Buffer UnderRun error, Automatically adjusting writing strategy & running OPC to provide the best burning quality.
SMART-X function adjusts CD-DA / VCD / DVD data extraction to a fastest allowable speed according to both data request rate from host and disk quality.
- Specifications
Model
LiteOn SLW 831SX
DVD
Write
DVD+R 8X(10800KB/sec) maximum by Z-CLV
DVD-R 8X(10800KB/sec) maximum by Z-CLV
DVD+R DL 2.4X(3240KB/sec) maximum by CLV
ReWrite
DVD+RW 4X(5400KB/sec) maximum by Z-CLV
DVD-RW 4X(5400KB/sec) maximum by ZCLV
Read
8X(10800KB/sec) maximum by CAV
Access time
130 ms
CD
Write
CD-R 24X(3600KB/sec) maximum by Z-CLV
ReWrite
CD-RW 24X(3600KB/sec) maximum by Z-CLV in UltraSpeed disc
Read
24X(3600KB/sec) maximum by CAV
Access time
110 ms
Buffer Size
2MB (Max)
Compatibility
MS-Windows 98SE / ME / 2000 / XP
MTBF ( Life )
60,000 Hours
Environment
5 to 35; Relative Humidity: 10% to 80% (non-condensing)
-40 to 65; Relative Humidity: 10% to 90% (non-condensing)
Dimension
138.0 ( W ) x 24.37 ( H ) x 155.2 ( D ) mm
Weight
362.8 g
Below are the drive's main specs as given by NeroInfoTool and DVDInfoPro and VSO inspector:
- Retail package
The retail version includes the LiteOn SLW-831SX, the power adapter, and along with these the package includes Nero 6, the well known CD-DVD burning software and the also famous PowerDVD 5 for your DVD playback needs.
-The Drive
The drive uses the Caddy (slot in) media feed, as seen in the below picture. The front panel hosts the DVD ROM and RW logos, as well as the activity LED and the eject button right of centre. There's no emergency eject hole.
On the unit's rear panel, there are the USB connection and power adapter input.
The drive's label, can be found on the back of the drive...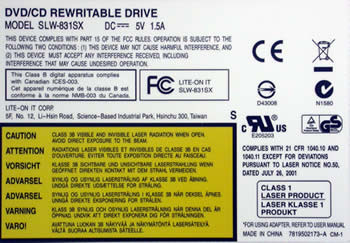 - Installation
The drive was installed under WindowsXP, and was recognized as "Slimtype DVDRW SLW-831S". The drive came with the default firmware (WS01) . All reading and burning tests were made with this firmware installed as no later revision has been released.
Due to the nature of the drive, we will not be comparing it with any other devices in this review and all tests posted will refer only to this drive.