32. Blu-ray burning - Panasonic MEI RB1 BD-R DL 6x
- Media Info
We proceed with another disc from Panasonic. This BD-R disc (MEI RB1) offers a nominal capacity of 50GB (DL) and it is certified for 6x recording.
- Writing - 4x (4x average) in 47:13min
Although we expected a burn at 8x, the LiteOn drive kept the recording speed at 4x CLV.
- Quality @4x
The disc was read at 6x P-CAV. More information on the compatibility of this disc with other BD burners is available in the following pages.
- Writing - 8x (6.39x average) in 31:58 min
Finally we burned the disc at 8x Z-CLV. The LiteOn iHASB112 burner finished the recording of 50GB (actually 45.11GB) of data in just 31:58 minutes.
- Reading - 8X (4.70X average)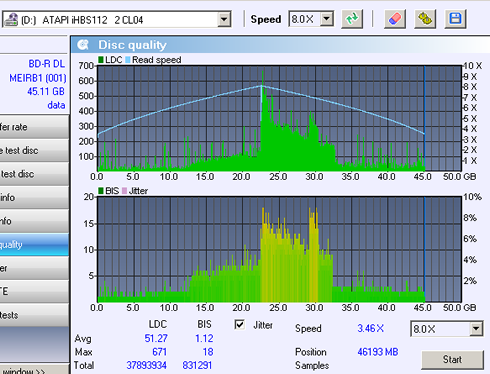 It seems that the high burning speed has a price here. The quality of the burn is low and we got an average LDC of 51.27. The disc was readable.