24. Final words
In the following table, we have gathered the findings of the DVD quality measurement tests. On the left side of the table, you can find the discs that did not produce uncorrectable digital errors, while on the right side are the rest of the discs. For detailed measurement data, visit the corresponding pages.
Media type

Digital errors within limits

Uncorrectable Digital errors

DVD-R

CMC MAG. AM3 burned at 24X
TYG03 burned at 8X
CMC MAG. AE1 burned at 24X
TTH02 burned at 24X.
Ritek F1 burned at 24x

DVD+R

OPTODISC R16 burned at 24x

Daxon AZ2 burned at 24x

YUDEN000 T03 burned at 24x
RICOHJPN R04 burned at 24x
PRODISC R05 burned at 24X
DVD-R DL
Verbatim MKM 03RD30 burned at 6x
No POF but very high PISum8
DVD+R DL
Verbatim MKM 003 burned at 4X
DVD+RW
Verbatim MKM A03 burned at 8x
DVD-RW
Verbatim MKM 01RW6X01 burned at 6x
CD-R
Taiyo Yuden 48x CD-R burned at 24x
Memorex (Ritek) 48x CD-R burned at 24x
- Booktype Settings
According to Nero Disc Speed, the drive supports the booktype feature with DVD+R/+RW and DVD+R DL media..
- Overburning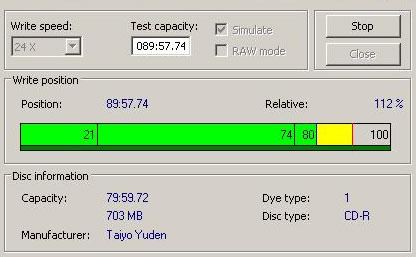 As we can see, the drive does not support overburning of DVD recordable media but ot does with CD-R.