1. Features, specifications
Nexus power supplies are designed to provide your PC stable and efficient power to guarantee perfect PC performance. The company claims that the new Nexus RX-5300 Modular Power Supply (530W) is the quietest in the market, while it remains ultra high efficient. Today we take a look in this new device.
- Features
530 Watt true power PSU SINGLE 12V RAIL
82% efficiency; complies with 80PLUS BRONZE specifications
Inaudible performance
Modular cables sleeved with X-mesh
Active PFC
Real Silent 13.5cm fan
Excellent airflow, honey-comb grill
Full range automatic; no voltage selection has to be set
Multiple safety features such as: overvoltage and short-circuit protection
Ball bearing fan
Complies to WEEE & RoHS
Version ATX 2.2
Size:150x86x158mm / 5.9x3.4x6.2in
Energy Efficient

The Nexus RX-5300 power supply is guaranteed to provide with over 82% efficiency. This means the power supply is using the power it is drawing from the wall outlet more efficient and less electricity is wasted. Obviously this is better for the environment and it saves you on your electricity bill! A more efficient power supply also results in a cooler power supply. So less cooling is needed allowing Nexus to o make the power supply even quieter.
Silence
By selecting each component Nexus aims at creating the best possible of mix of components to make the power supplies as silent as possible. The company tests the noise level in a ISO-certified chamber for noise tests. It is important to know that the background noise in such a chamber is a little over 15 dB(A). These are the best possible conditions for these tests and hence you should always be aware when a manufacturer is claiming dB(A) values lower then 15 dB(A). Because how are they able to measure this?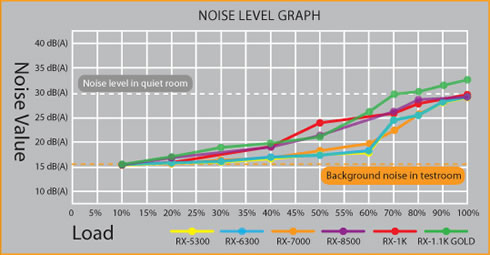 Modular & Sleeved Cables
Messy cables interfere too much with the airflow inside a PC. The modular cable design allows you to only connect the connectors you really need. Plus all cables are sleeved with a black and white X-mesh for a clean look.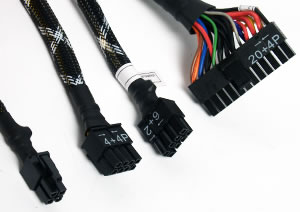 Active PC Circuit
Power Factor Correction (PFC) allows the power distribution system to operate at maximum efficiency. This does not so much influence your electricity bill but it will also reduce energy consumption at the side of the power provider. Active PFC is technically more complex then passive PFC and matches the overall high quality standard and reliability of this Nexus power supplies.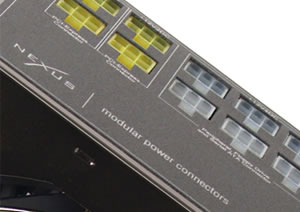 Full Range Automatic
This power supply can be used on 115VAC and 230VAC input power. Selection is automatically made no voltage selection has to be set. Just plug in and go.