2. CD - DVD Reading
- CD Format
For our CD transfer rate tests, we used the Nero CD-Speed utility and a set of Pressed CDs. The drive can read CD_ROM media at a maximum speed of 40X.
Pressed CD -
US RW CD -
The following CD Speed graph shows the failure of the drive to read our US-RW media.
- AudioCD
In the CD Speed Advanced DAE quality test, the drive's average speed was 29X with a quality score of 100.

- 90mins Audio disc
- 99mins Audio disc
The drive read both our 90 and 99 minute CD media.
- DVD Format
Now let's have a look at how the drive performs with DVD media. This time, a set of SL and DL DVD media was used. The drive is capable of reading DVD-ROM SL media at a maximum speed of 16X and 8X for DL media.
DVD Pressed SL media -
16X reading speed was achieved with DVD-ROM Single Layer media.
PTP DVD-ROM -
The two layers of a PTP DVD-ROM disc are read sequentially with the drive starting reading from the inner part of the disc, which is the beginning of each layer, progressing towards its outer range.
OTP DVD-ROM -
The first layer of an OTP dual layer DVD-ROM is read exactly the same way as the first layer of the PTP disc we tested previously. The difference here is the reading strategy of the second layer of the disc. The beginning of the second layer is located in the outer part of the disc, so the drive starts reading from the outer tracks and progresses towards the inner part of the disc.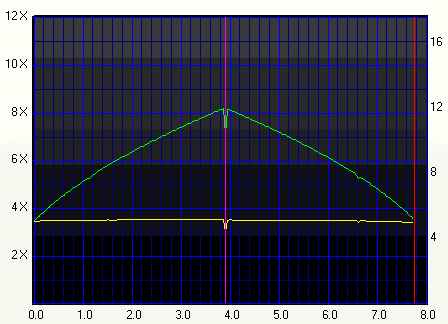 8X reading speed with both PTP and OTP dual layer media .
- DVD Ripping speed:
Average - 6.127 kB/s (4.4x)
Maximum - 8.625 kB/s (6.2x)
- DVD-RAM
The drive can read read and write DVD-RAM media at 2X, 3X and 5X. For our test, we used a 5X DVD-RAM disc from Maxell, burned with the LG GSA-4120B. The disc was read without any problems.